« Obituaries | Sandra George Stewart
Sandra George Stewart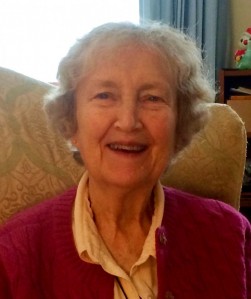 Date of Death: September 25, 2017
Date of Birth: July 29, 1936
Biography:
ORR'S ISLAND - Sandra George Stewart, 81, died peacefully in her home on Orr's Island surrounded by family on September 25, 2017. Sandy was an artist, teacher, and singer who noticed and loved beauty in all its forms, in art, in nature, and in those around her.

Sandy was born on July 29, 1936 in Yonkers, New York and spent her childhood in Stamford, Connecticut. Her parents, Alonzo Milton George and Charlotte Elizabeth Walker George, instilled in her a love of the arts and music and encouraged her sense of fun. As a teenager on summer break from High Mowing School in New Hampshire, she spent summers on Orr's Island, sailing, picking blueberries and digging clams with her cousin Emily Walker. At Skidmore College, she majored in art and delighted in taking dates to drink from the famous sulfur fountains. She earned her Master's degree from the University of Bridgeport.

After college, she taught art in elementary schools in Baldwin, NY and Fairfield, CT, played the autoharp, and drove to Vermont with skis strapped to the roof of her blue VW bug. She married Barry Stewart in Stamford, Connecticut on February 19, 1966. The two began a life of collaboration on all manner of projects, supporting each other through tough times and rejoicing in the happy ones. In 1976, they moved to Maine with their three young daughters. There, Sandy dove with enthusiasm into making maple syrup, growing gardens, and making art that reflected the natural beauty around her.
Sandy was an accomplished artist whose work was shown in galleries and exhibits throughout Maine. She was a mainstay at the Colby Craft Fair. She first fell in love with enameling, the art of melting colored glass on metal, while a student at Skidmore College. Although she experimented with many media over the years and became an accomplished silversmith and woodcarver, enameling was her passion and she never tired of learning and experimenting with new techniques. She found camaraderie and inspiration with her fellow artists at the Haystack Mountain School of Crafts in Deer Isle.
Sandy's enthusiasm and creativity made teaching art a natural fit. She respected each person—no matter how young—as an artist. She carefully considered lesson plans and spent late nights looking over her students' work. After 25 years at SAD 54 teaching elementary schoolchildren in the Skowhegan area, Sandy retired, only to increase her time teaching art and enameling to students of all ages throughout the Waterville area.
Music had always been important to Sandy, and she found a musical home in the St. Mark's Church choir, where she sang soprano and relished singing the descant. The St. Mark's Choir became a second family for Sandy, with strong friendships formed through laughter and song. For years, she participated in Community Chorus at Colby College. She took her singing talent to the community theater stage, and played a diversity of roles. With her husband Barry, she designed, constructed, painted, and decorated sets for plays at the Waterville Opera House and Oak Grove-Coburn School. Sandy was also known for using her voice to celebrate her friends' important moments; she wrote and performed humorous tribute pieces, often grabbing bystanders to join in the serenade.

Sandy's sense of joy and humor saw her through a long illness and allowed her to continue to connect with those around her. She played with her granddaughters and grand-dogs and enjoyed making art and listening to music through the end of her life.
Sandy is survived by Barry Stewart, her husband of 51 years; her three children, Jean Palmer-Smith, Gwendolyn (Wendy) Stewart Kibbe, and Kimberly Stewart; her grandchildren Shannon Palmer-Smith, Penelope Kibbe, and Olivia Kibbe; Gwendolyn's husband David Kibbe; her brother and sister-in-law Phillip and Karen George; and several nieces and nephews.

Visiting hours will be held on Friday, September 29 from 5:00 p.m. to 7:00 p.m. at St. Mark's Episcopal Church in Waterville, and a funeral service will be held on Saturday, September 30 at 11:00 a.m. at St. Mark's Church. All are welcome. In lieu of flowers, donations may be made to Haystack Mountain School of Crafts, Deer Isle, Maine.