« Obituaries | Edith M. Stevens
Edith M. Stevens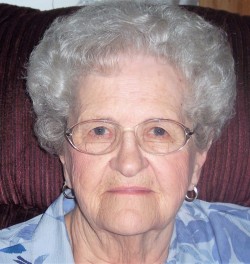 Date of Death: March 9, 2017
Date of Birth: April 26, 1927
Biography:
Edith M. (Gordon) Stevens, 89, died peacably at her daughter's house in Canton on Thursday, March 9th. Edith was born in South Paris on April 26, 1927 to Harry and Dorothy (Clough) Gordon. She married Howard Stevens on June 30, 1945 in Spartanburg, South Carolina where he was stationed in the Army. Together they raised four daughters and lived in West Summer until moving to Canton in 1958.
Edith attended schools in South Paris and belonged to the Women's Aux. of the VFW #5986. She was employed by the tannery in South Paris, Penley's Mill in West Paris and Brindis Leather Company in Canton.
Edith enjoyed going to the Salvation Army and flea markets as well as meeting friends for coffee in the Auburn/Lewiston area. Edith was a wonderful cook and enjoyed baking for her family. She especially enjoyed making Sunday morning breakfast with her husband for family and extended family members.
Edith is survived by three daughters, Dianne Ackley and her husband Larry of Oxford, Mass., Sheila Smith of Canton and Kelly Dube of Manchester. She also leaves a son-in-law, Richard Landry of Canton. She is also survived by her brother Sidney Gordon and wife Roberta of North Norway. She leaves behind grandchildren including Richard McKeen and fiance Amanda Vasquez of Mass., Brad McKeen and fiance Mary Hubbard of Canton, Michael McKeen of Canton, Larry Ackley, Jr. and wife Lisa of Oxford, Mass., Melanie Littlefield-Hickey of West Gardiner, Chuck Smith and fiance Amy Cote of Famingdale, Justin Dube and wife Ashley of Wayne, and Jared and Avery Beckwith of Manchester. She is also survived by 21 great-grandchildren and 1 great-great-grandson. She also leaves behind "adopted daughters" Gabby Monzo and Tina Reed.
Edith was predeceased by her husband of 69 years, her daughter, Carolee Landry, grandson, Blaine McKeen, her granddughter's husband, Ron Hickey, son-in-law, David Atkinson, and adopted daughter, Ann Cierpich. She was also predeceased by her parents, sisters Beryl and Mary, brothers Robert, Winfield, Meryl , Edward and Raymond.
Condolences may be expressed at funeralternatives.net. In Lieu of flowers, donations may be made to Rural Community Action Ministry, 81 Church Hill Road, Leeds, Maine 04263. Funeral services will be held on May 6 at 2 p.m. at the Universalist Church, Rte. 219, Main St., West Sumner, Maine.