« Obituaries | Walther Story Stephenson
Walther Story Stephenson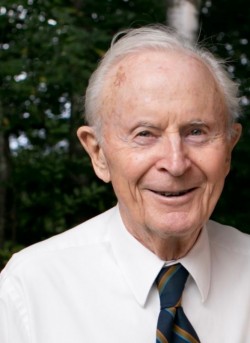 Date of Death: October 24, 2021
Date of Birth: July 13, 1924
Biography:
Walther Story Stephenson was born in New York City on July 13, 1924, the second son of Dr. Junius W. Stephenson and the former Ruth Story Walker. He had jokingly said that at about age 3 or 4 he didn't like living in the city, so the family moved to Pelham, NY, a suburb of the City.
He went through schooling in the Pelham School System, graduating in 1942. He played on the baseball, basketball, and football teams, was president of the senior class, received the American Legion award and was named by his classmates as the most popular boy in the class and the one who had done the most for the school.
As his father died at an early age, his Scoutmaster became the most important adult in his early life, and he became an Eagle Scout. Later in his life he claimed that his Scouting experience was one of the most influential in his entire life. Later on, as an adult, he became Scoutmaster of his old troop in Pelham.
After high school he enrolled in the Wharton School of the University of Pennsylvania, but after one semester he was drafted into the Army, serving in Europe and receiving the Purple Heart and several battle stars. Upon his discharge from the Army he returned to Penn. While there he was president of the Junior Class, a member of Phi Gamma Delta fraternity, the Friars Senior Society, and Interfraternity Council. Immediately after his graduation in 1949 he went to work for the Home Life Insurance Company of New York where, over the years, he served in several capacities, including Vice President-Sales.
It was while at Home Life that he met his future wife, Solveig Marian Strom (better known as Sue). They were married in 1953 and had two sons, Roger Walther and Bruce Einar. They were then living in New Jersey, and both boys followed in their father's footsteps, actively involved in Scouting. He and the boys particularly enjoyed backpacking in some of the New England mountains.
A bit earlier, when the boys were young, the family had their first vacation experience in Maine, renting a cabin on Messalonskee Lake in Sidney, and later on they bought a small camp on the lake, where Sue, Roger, and Bruce vacationed for several summers and he commuted from his Home Life job over weekends.
In 1982 at the age of 58 he retired from Home Life and the family moved permanently to Sidney. Many of their friends in Ridgewood, NJ thought that Sidney, Maine was somewhere north of Alaska. They quickly became active in the community, Sue doing much charitable work and both volunteering for several organizations. In addition they ran a small business out of their home, and he became associated with Yankalovich, Skelly, and White, a prominent national research organization. With them he interviewed the top officers of many major companies in Maine. Of them he found Leon Gorman of LL Bean to be the most dedicated and Jim Goodrich of Bath Iron Works to be the most interesting.
Also while in Sidney he and son, Bruce, took an adult ed class in vegetable gardening, and he soon became an avid and successful gardener. In their basement he built what he called his "Rube Goldberg" indoor greenhouse, where he was able to start many plants early, thus enabling him to grow watermelons in Maine. Also through adult ed, he became proficient in the crafts of furniture refinishing and caning. The family continued to enjoy the pleasures of their camp on the lake - swimming, fishing, waterskiing, boating, and hammocking. 
In September 2000 his beloved wife, Sue, passed away after a long illness, and a couple of years later he sold his Sidney home (keeping the camp) and moved, with his black lab, Holly, to the OceanView Retirement Community in Falmouth. There, as president of the Resident Council, he initiated several projects, including a massive food drive for the Falmouth Food Pantry, resulting in the largest single donation of items the Pantry receives each year. Sometime thereafter he had a brief marriage to his long ago high school sweetheart, actress Mona Freeman, living in Beverly Hills, but then returning to OceanView, still with his black lab, Holly.
Over the years he served on the board of several organizations and continued volunteering activities. The family were active members of the Good Shepherd Lutheran Church in Glen Rock, NJ, the Prince of Peace Lutheran Church in Augusta, and most recently Emmaus Lutheran Church in Falmouth.
Several years before his death he and Jody Horton, also an OceanView resident, joined together in companionship, and they enjoyed many activities together, including gardening.
Two loves of his life were his granddaughters, Jacqueline Story and Olivia Winfield, whom he affectionately called the Moppet and the Muffin, always remembering many of their interests, antics, and activities, among which were their squeals and screams when, as little girls, their Dad was teaching them how to put a worm on a fish hook. He was overjoyed to see them happily married, and then delight in the company of his three great-granddaughters, Barbara Rose, Evelyn Hope, and the newest addition, two-month old Solveig Winfield. Waff, as he was known by family and friends, spent his final days in the loving company of his sons and their wives, Mona and Kelley, his granddaughters, and his great-granddaughters.  In lieu of flowers please support the local Salvation Army in Walther's memory. Checks can be made to The Salvation Army and sent to PO Box 3575, Portland, ME 04104, or online at nne.salvationarmy.org/portland-me.  Arrangements are in the care of Funeral Alternatives, 46 Bath Rd. Brunswick, Me. Condolences may be shared at Funeralalternatives.net