« Obituaries | F. Ernie Stallworth
F. Ernie Stallworth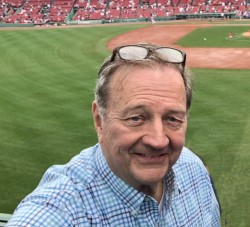 Date of Death: May 27, 2023
Date of Birth: May 22, 1944
Biography:
Ernie Stallworth passed away peacefully at the age of 79 on May 27, 2023, after a long struggle with Alzheimer's disease.
F. Ernest (Ernie) Stallworth was born in 1944 in Houma, Louisiana and raised in Charlotte, North Carolina for most of his formative years. He was a proud alum of Clemson University, where he played basketball as a Freshman and was Editor of the student newspaper and remained an avid Tigers fan for the rest of his life.
After graduating with a degree in Industrial Management from Clemson, he worked for the Charlotte newspaper covering the city. He was given the opportunity to travel to Russia with a young political writers group. Ernie was called to Maine to be a reporter for the Bath Brunswick Times Record. Several years later Ernie moved to the big city of Portland to become Chief Political Writer for the Portland Press Herald. This experience guided his involvement in politics later in life. Later he became a sports writer with the dream job of covering the New England Patriots, Celtics and Red Sox.
In the mid-80's Ernie gradually transitioned to his second and final career starting a business with Primerica Financial Services as a Financial Advisor. He built a large and thriving Primerica team in Maine traveling across the state to meet one-on-one with clients. Ernie's journalism skills never left him as he met with new clients and learned about their dreams. He then used his skilled financial advice to help fulfill those dreams. In 2019 when Ernie retired, his brother purchased the business to ensure that his clients received the same level of service and care. Ernie enjoyed his last years in West Bath at his home on the ocean which he helped expand to ensure current and future generations years of enjoyment.
Ernie's passion was always sports, everything Boston, even into the years when his memory was failing. Ask him about the Red Sox two months ago and Ernie could tell you chapter and verse in which inning player A or B made a great play. His #1 team was the Patriots always and forever. In his last days he still recognized the artwork his grand-daughter created in the likeness of Tom Brady. Ernie's wife Judy sang with the First Parish Church Choir and Ernie enjoyed traveling with them to various European and South American Countries. Judy and Ernie would often play bridge together with their friends.
Ernie was preceded in death by his mother Claudia McChesney and his father Fred R. Stallworth. Ernie is survived by his wife of 39 years, Judith (Judy) Sayre Stallworth, younger brother Robert F. Stallworth (Marie), step-daughter Lynn Smith Kuttruff (George), step-son Harding Lee Smith (Sarah), grandchildren Abigail and Aaron Kuttruff, Dylan Carofano, Griffin Lee Smith, great-grandchildren Emma and Gavin Kelso, and brother in law Richard Sayre (Pam) Ernie also has many adoring nieces and nephews including Tom, Sara, Sara and Hannah.
Ernie's family would like to thank the caring providers at Aging Excellence for their incredible care over the last nearly four years. They would also like to thank the numerous kind and caring friends and neighbors in their small and beautiful neighborhood on the ocean.
A service will be June 19th at 11:00 AM with light reception to follow at the First Parish Church where Ernie served as a Deacon and loyal parishioner over the years. 
In lieu of flowers, donations can be made in Memory of Ernie Stallworth to The Bath Area YMCA 303 Centre St. Bath Maine 04530 Bath YMCA or First Parish Church
The family shares below a message from Ernie that he wrote in the 1980's.

A Morning Prayer
Come walk with me into the sun
Leave behind all the shattered fragments of other beginnings
The path leads everywhere and nowhere
Its way is blocked by flowers
Littered with stones
The secret is in the selection

Choose with me to walk in the sunlight
Smell the good earth,
Hear the crashing waves,
Feel the beauty of God's world
Choose with me to serve another
For in giving pleasure we receive
In seeking nothing, we gain everything

In walking we will gather friends
As we gather flowers
If one is lost, we will grieve together

Come walk with me into the sun
We are both going this way
We might as well hold hands

By Ernie Stallworth