« Obituaries | Ellen Heath (Stevens) Staley
Ellen Heath (Stevens) Staley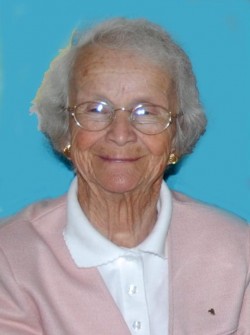 Date of Death: November 25, 2012
Date of Birth: November 28, 1917
Biography:
Ellen Heath (Stevens) Staley passed away November 25, 2012 at the Hill House in Bath, Maine, three days shy of her 95th birthday surrounded by her family and many friends.
She was born in Bath on November 28, 1917 to Hiram T. and Harriet (MacDonald) Stevens.
She was educated in Bath Schools. Known as "Stevie" to her Classmates at Morse High School, she graduated as the Vice President of her class in 1935. In her yearbook, "Stevie" was affectionately and aptly described by her peers in the following way: "Looks are sometimes deceiving. Underneath that demure appearance there is just a bit of TNT".
That description would be evident throughout her entire life.
Ellen continued her education at Westbrook Junior College. She was May Queen and also graduated as President of the class of 1938. She then enrolled at the University of Maine, Orono and graduated in 1940 with a B.S, in Fine Arts.
Her love of Arts and Crafts played a prominent role in all of her lifelong endeavors. As chairman of the Bath Garden Club Yearbook Committee for many years, she designed a cover that won first place in the national competition. This award led to her writing and illustrating a comprehensive book on flowers and sea life that was native to Popham Beach. She published Wildflowers and Sea Creatures when she was 90 years old.
Ellen was instrumental in the formation Yankee Artisan that became a retail outlet in Bath for area craftsman and in 1977, along with her good friend, the late Maine Humorist, Marshall Dodge. She was responsible for the bringing together of Maine's creative spirit known as the Maine Festival originally held at Bowdoin College each summer. However, Ellen always considered her most important position was that of devoted wife and mother.
Ellen spent her childhood and summers at her beloved Popham Beach where she belonged to the Popham Circle Ladies Group and also the Popham Beach Improvement Association. In 1973, she originated and organized George Popham Flare Night to raise money for the Popham Library and that event is still held annually in August.
In 1965, Ellen married Phil Staley of Bath. They spent eleven years together of which she would always proclaim were the happiest years of her life. Phil died unexpectedly in 1976. For several years Ellen lobbied the State Park Service and Governor Jim Longley to allow her to erect a flag pole at the parking area at Fort Baldwin as a commemoration to her late husband. As a Park Ranger, Phil enjoyed many lunches with Ellen at that site overlooking Atkins Bay. Her perseverance paid off and the flagpole stands there today. 
Along with her husband, Phil, Ellen was pre-deceased by her parents, her brothers, Hiram Stevens of Boston, Robert Stevens and his wife, Roberta of Woolwich and Popham, her sisters, Carol Burke and her husband, R.Pearson of Augusta and Popham, and Jane Stevens of Popham.
She is survived by her daughters, Nancy Lebel and her husband, Ernest of Gulfport, Florida and Popham, Sally Boucher and her husband Thomas of Dover, N.H. and Popham, three granddaughters, a grandson, and several great grandsons and many nieces.
The family would like to thank the staff at the HillHouse for their continued love and care given to Ellen during the past two years.
A memorial service and celebration of life will be held at the Popham Chapel in the summer of 2013, on a date to be announced.
If one wishes, memorial donations in Ellen's name may be made to Popham Chapel Fund, c/o William Racine, 859 Washington Street, Bath, Maine 04530.