« Obituaries | Delma O Staley
Delma O Staley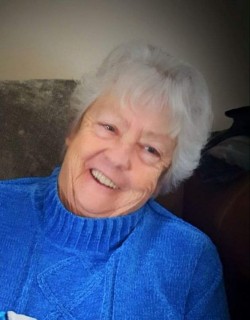 Date of Death: March 5, 2021
Date of Birth: October 25, 1940
Biography:
Delma O. Staley, 80, formerly of Casco, Maine, passed away surrounded by loved ones on Friday, March 5, 2021, at the home of her niece and nephew in Leeds, Maine.
She was born in Portland, Maine on October 25, 1940, a daughter of Clarence and Elizabeth Micklon.
Delma spent her life taking on the role of a caregiver, she did this in so many ways, from being a mother, a grandmother, to a great-grandmother. That very same trait followed Delma to work, as she spent many years as a CNA at Bridgton and Fryburg Nursing Homes. She then took time to become a counselor at Good Neighbors working with mentally challenged adults.
She was predeceased by her parents, Clarence, and Elizabeth Micklon; her husband, William Staley; two sons, Robert, and Henry Staley; and four brothers, Bert, Earl, Gerald, and Charles Micklon.
She is survived by two daughters, Sharon Johnson, and Deborah Martin; two sons, George Staley, and Stanley Staley; a sister, Phyllis Libbey; a brother, Richard Micklon; along with many grandchildren, and great-grandchildren; and several nieces, and nephews.