« Obituaries | Jeffrey H. St. Pierre
Jeffrey H. St. Pierre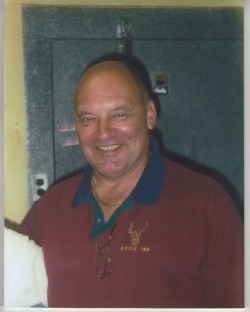 Date of Death: June 1, 2014
Date of Birth: March 29, 1940
Biography:
Jeffrey Henry St. Pierre, 74, of North Yarmouth, entered in to heaven on June 1st, 2014 with his loving family by his side. He fought a  courageous battle with lung cancer.
He was born in Waterville on March 29th, 1940 the son of the late Alcide Joseph and Gustie Mae St. Pierre.
After graduating from Chevrus High School in 1959 he then attended St. Francis University in Nova Scotia where he excelled in football.
Jeffrey was employed at Portland Copper, then went on to be a Sheriff in Cumberland County, followed by Crosby, and then OA Centers for Orthopaedics. In his retirement he drove a school bus for the town of Cumberland.
He was a life member of Portland Elks and member of the Eagles.
Jeffrey is survived by the love of his life Patzi; children Jeannine Currier, Charisse Scavoni, Jeff H. St. Pierre Jr., Stephen St. Pierre and wife Peggy, Kimberly Campbell, Kelly Murfey and wife Cynthia, Kristen Hopkins, Kerri Campbell, George Tar and wife Shannon; sisters Eizabeth Pourier, Sandra Wells; brothers Allen 'Bud' St. Pierre and wife Patti, David St. Pierre and wife Janet; mother in law Lona York; brothers in law Earl Brown and wife Mavis, Terry Brown and wife Bonnie; sisters in law Donna Gallant and husband Robert, Marlene Douphinett and husband John; 16 grandchildren; several nieces, nephews, and cousins; and many great friends. He was predeceased by brothers Richard and Joseph 'Pete'.
Jeffrey's family would like to thank the Maine Center for Cancer Medicine for their wonderful care.
Family and friends are invited to a celebration of life on Saturday, June 14th, at Portland Elks, Congress Street, at 3 PM with Rev. Robert Dorr officiating. Burial will be held privately. In lieu of flowers, donations may be made me made to Maine Center for Cancer Medicine, 100 Campus Dr #108, Scarborough, ME 04074.