« Obituaries | Albert Butch St. Pierre Jr.
Albert Butch St. Pierre Jr.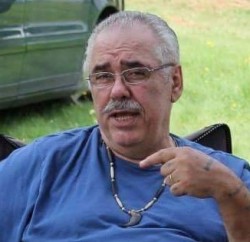 Date of Death: June 29, 2017
Date of Birth: August 10, 1946
Biography:
Albert D. St. Pierre Jr.—Minot—Albert D. St. Pierre Jr, died on Thursday, June 29, 2017 in a Portland hospital. He was born in Lewiston on August 10, 1946 a son of Albert and Evelyn Gosselin St. Pierre Sr. Albert or Butch as he was known enlisted in the U.S. Army. He predominately worked as a professional painter for Northeast Painting for 30 plus years. Butch was proud of his Mic-Mac heritage and was involved in the native community. Fishing, camping and hunting and just being with his family was his passion. He had a strong wit about him. Butch was predeceased by his parents and four of his siblings. He is survived by his wife Cindy, children: Angie, Rick, Tina, Denis, Nathan, Ryan, Devin and Christy, brothers: Marcel, Emile and Ralph and sisters, Fern and Connie, 19 grandchildren, 1 great grandchild and many nieces and nephews. Services will be private. Arrangements by Funeral Alternatives, Lewiston.