« Obituaries | Madeleine Maddie St. Louis
Madeleine Maddie St. Louis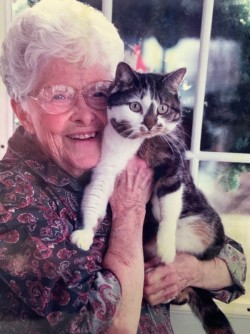 Date of Death: April 30, 2023
Date of Birth: February 4, 1920
Biography:
Madeleine " Maddie" St Louis passed away April 30th at her home in Auburn at the age of 103.
Madeleine was born in Lewiston on February 4, 1920 to Henry T Lowell and Florence May Rand
Lowell. She resided in Auburn for most of her life.
Madeleine graduated from Edward Little High School in 1938. Following graduation, she was
employed at B Peck Co until the outbreak of World War II when she had the opportunity to work
at Lewiston Trust Co ( later Depositors Trust & then Key Bank).
Madeleine married Roger E. St Louis on September 17, 1955 and in 1957 her son Brian was
born. She was a stay at home mother until 1965 when she started working for Androscoggin
Bank. She retired in 1985. She enjoyed being a homemaker and took great pride in her home.
She enjoyed needlework and was a member of CMMC Women's Hospital Association and the
YWCA Crafters Group.
She is survived by her son Brian and his wife Priscilla of Rangeley.
She was predeceased by her parents, brother's Henry & Earland and her beloved cat Ginger,
who was her companion for 19 years.
She was a determined woman and was able to live on her own, with the help of friends and the
assistance of Androscoggin Home Healthcare and Hospice over the last few months of her life.
To follow her wishes, there will be no funeral or graveside service. In lieu of flowers, donations
can be made to the charity of your choice or Androscoggin Home Healthcare and Hospice.