« Obituaries | Ernest S. St. Jean
Ernest S. St. Jean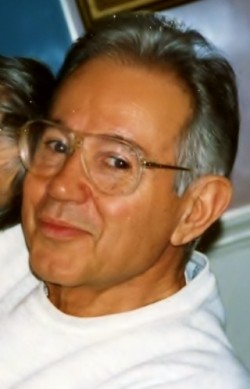 Date of Death: July 8, 2014
Date of Birth: February 11, 1928
Biography:
Ernest St. Jean, 86, of Lewiston shed his physical body on Tuesday July 8 to continue his journey in the higher realms of God's love and light.  His spirit's ascension happened at the South Paris Veterans Home shortly after a beautiful and memorable sharing with his son and daughter Stephen and Susan. 
February 11, 1928 Ernest began his physical journey in Providence Rhode Island as the son of Ernest and Dorothy St. Jean.  He graduated from Lewiston High School in 1946 and shortly after enlisted in the Navy.  Ernest was a Veteran of the World War II Era and Peacetime serving as store keeper on the Navy's Philippine Sea Ship from June 21, 1946 to April 20, 1948.  On September 7, 1957 Ernest wed Maureen Ann Shanahan who he shared two children with. He had a long distinguished career with Prudential Insurance Company, worked at Benoits and Porteous but the work he loved was all his voluntary work assisting people with different programs through Androscoggin Home Health.
Ernest was loved and admired by many for his kind, giving, and sweet spirit.  He was a man of strong faith in God and Jesus. Ernest led a life well that reflected the simplicity of Jesus' teachings to love and honor all in the brother and sisterhood of mankind.  His physical presence will be missed by many who carry endearing and fond memories of his spirit's light.  Ernest left the earthplane with his prayer answered of peacefully crossing in his sleep, and carrying with him his hopeful wish "I really hope that they don't have to have wires in heaven."
He is survived by his son Stephen St. Jean and wife Robin of Eustis, His Daughter Susan St. Jean of Poland, his beloved dog Dakota St. Jean, his former wife and friend Maureen Rock of Auburn, his brother Richard St. Jean of Wellesley, MA, two grand children Melissa St. Jean and Ryan St. Jean both of Auburn and three great grand children. 
The family wants to express their deep gratitude to all the staff at the South Paris Veteran's Home for all the loving care provided to Ernest while he was in their care, and all those that were in prayer for him of a peaceful transition.
Ernest did not want a service but for those that want to express condolences they can be expressed at www.funeralalternatives.net