« Obituaries | Orin W. Sprague III
Orin W. Sprague III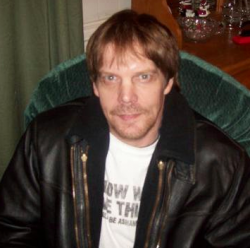 Date of Death: July 28, 2014
Date of Birth: February 5, 1962
Biography:
Orin W. Sprague III – 52 passed away on July 28, 2014
He was born in Beverly Massachusetts on February 5th 1962.
He is the son of the late Orin W. Sprague Jr, formally of Bethel, Maine and Gert Friel of Woodstock, Maine.
Orin passed away in his home unexpectedly last Monday evening where he lived with his sister Sherri and was surrounded by the love of his family. Family was very important to Orin and he made sure they knew that whenever he was with them. He was particularly fond of his nieces and nephews and had given each one of them their own special nickname. Orin lived and worked in many states and had many friends. As a teenager, Orin worked locally at Andover Wood Products and Newton & Tibbett's with the help of his father Orin Jr. Orin's sense of humor was very evident when you met him. Many of his jokes he told a million times, but somehow he still made them funny no matter how many times you heard them.  Orin had a brilliant mind and loved putting it to use when arguing about current affairs. He loved fixing computers and listening to music.  
Orin touched so many lives and was compassionate and loving.  He rekindled a high school love with Vicki Wilson and helped raised her children as if they were his own. He was known as Papa O by his grandchildren; Connor, Gloria, Zachary and Shauna. He loved and nurtured his cat Mr. Puss Puss for which he had for the past 14 years.
Orin was predeceased by his parents Orin W. and Sharon Sprague, and Ed Friel, Grandparents Orin and Eunice Sprague; Louis and Margaret Sicotte, and a nephew Keith Tedford.
His survivors are his partner in life Vicki Wilson and her their two children Sonya and Victoria and their four grandchildren…He also left behind 5 brothers Louis, Pat, Michael, and Frank Friel and Richard Sprague and 5 sisters Sherri Cordwell, Kim Remington, Dawn Friel, Diana Polli, and Sandy Sepanek.  Several Nieces, Nephews, Aunts, Uncles, and cousins.
Services will be held at the Bethel Alliance Church on August 12th, 2014 at 6 p.m. a graveside service will be held in the near future for family and close friends.