« Obituaries | Ellen 'Ellie' Margaret Sparks
Ellen 'Ellie' Margaret Sparks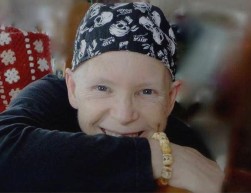 Date of Death: February 20, 2014
Date of Birth: September 18, 1952
Biography:
Ellen Margaret Sparks – Artist, Activist, Joyous Friend To So Many


AUGUSTA – Ellen Margaret Sparks, 61, of Chelsea passed away peacefully on February 20th at the Gosnell Hospice House in Scarborough after three times fighting cancer with great courage and a bottomless tenacity for life.

Ellie, as she preferred to be called, was born on September 18, 1952 in Mineola, New York, the only daughter of Henry II and Mary Sparks. She is survived by her brothers Henry Sparks III of Chelsea and Rick Sparks of Augusta, as well as several cousins and countless friends.

From birth, she was creative, and was an easy laugher with an optimistic spirit, putting others instantly at ease, and enriching their lives with her contagious energy, compassion and sense of humor. She was a wonderful writer, and, after teaching herself to play guitar, played and sang in numerous venues. She also recorded a spirited vocal rendition of "The Maine State Song," which  can be seen on You Tube.

Ellie graduated from Kents Hill Prep School, and earned an Associates degree from Nasson College in Springvale. She later graduated from The University Of Southern Maine with a Bachelors degree in social work, after which she became a licensed social worker.

Always lending her time and skills to important causes, she was an active member of the anti-nuclear and feminist movements.

Ellie worked in many fields and excelled in them all. She lent her talents to Portland Lithograph and Sir Speedy, and briefly owned her own printing company, The Lavender Press. She navigated her way all over the back roads of Maine, which gave her a true love for the State, while distributing for Uncle Henry's for many years.

Her passion for other people found its voice in her work for Dayspring in Augusta, where she served as an important and supportive resource for her many AIDS clients. From there she took up the fight against the health hazards of smoking when she joined The Partnership For A Tobacco-Free Maine.

A service honoring this unforgettable part of our lives will take place at the Unitarian Universalist Community Church, at 6 Summer St. in Augusta at 3:00 p.m. Saturday, February 22. In lieu of flowers, donations to the Gosnell Hospice House and/or the Kennebec Valley Humane Society would be gratefully accepted.