« Obituaries | Elizabeth Anne Skolfield
Elizabeth Anne Skolfield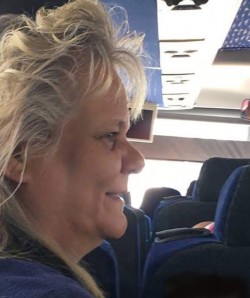 Date of Death: February 10, 2017
Date of Birth: April 15, 1963
Biography:
Elizabeth Anne Skolfield, 53, of Lisbon falls passed away unexpectedly on Friday, February 10th, 2017 at Central Maine Medical Center. She was born in Lewiston on April 15th, 1963, the daughter of Manfred and Sandra (Kinney) Eck. She graduated from Lisbon High School Class of 1981, where she also participated in the summer softball programs. She was a known member of the community, as she was employed as the assistant manager at Food City and met Lisbon Falls and Lisbon residents daily. She enjoyed every bit of it.
She married her husband Jeffrey on December 2nd, 1983 in Lisbon Falls. They spent lots of time together and with their children and family at their family owned camp on Little Wilson Pond in Turner where most of their memories were made.
She absolutely loved to cook (move over Julia Childs she's on her way now!) and most of the time made enough food for the entire town. Every holiday you could expect her to say "I'm not sure how it's going to taste" because she was always trying something new as she was always watching cooking shows on the Food Network Channel, but of course it was always amazing!
She loved flowers and could not wait until spring to start planting flowers to make her yard beautiful again. Her children and grandchildren were her entire world as they were very close and had family dinner multiple times a week.
She leaves behind both parents; her daughters, Melissa Skolfield and fiancée Erik of Auburn, Hollie Skolfield of Poland, Katie Skolfield and partner Justin of Lisbon Falls, and stepdaughter Heather Skolfield of China, Maine; her 3 brothers Richard "Jo-Jo" Eck and wife Tracy of Lisbon Falls, Jamie Eck and his wife Melody of New Portland, and Peter Eck and partner Suzy of Brunswick; her brother-in-Law Dan Skolfield and his wife Sharon. "Uncle" Dan was and has always been there for the girls as well as for Beth; her aunt Karen and her husband Mike Shackelford of Evansville Indiana; and her nine grandchildren who absolutely adored her, Emma, Mark, Baylee, Katelyn, Ethan, Natalie, Lukas, Miley and Bryson.
She was predeceased by her grandparents Joseph and Mary Kinney of Lisbon Falls; her beloved husband of 31 years, Jeffrey Skolfield who passed away on March 14th, 2015; her mother-in-law Phyllis Griffin; and sister-in-law Carrie Eck.
A celebration of life will be announced in the next few weeks.