« Obituaries | Lori A. Skelton
Lori A. Skelton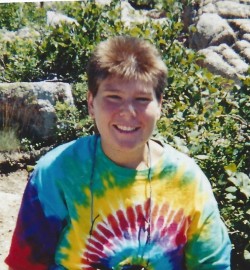 Date of Death: September 9, 2014
Date of Birth: April 26, 1970
Biography:
Lori A. Skelton, 44, of 32 No. Temple Street in Lewiston passed away
on Tuesday, September 9, 2014 at Maine Medical Center in Portland
after a brief illness. She was born on April 26, 1970 in Lewiston the
daughter of George C. Skelton and Kathy (Danforth) Skelton Haigh.
Lori was a 1988 graduate of Oak Hill High School in Wales, and she
graduated from Husson University in Bangor in 1992 with a
Bachelor's Degree in Nursing. For the past twenty-two years, Lori
has worked at St. Mary's Regional Medical Center in Lewiston as a
psych nurse in the Admissions Department coordinating intakes for
Behavioral Health.
Lori was an avid Red Sox fan. She loved to socialize with friends.
Lori was the "life of the party". Her sense of humor, generosity, and
loyalty to family and friends were boundless. She was a dedicated
professional and had the utmost respect of her colleagues.
Lori is survived by her beloved companion, Deb Higgins of Lewiston;
her mother, Kathy Haigh and her husband, Robert, of Litchfield; her
father, George Skelton and his companion, Margaret Thomas, of New
Gloucester; her "second set of parents", Aunt Karen and Uncle David
Byras of Litchfield, many aunts, uncles, and cousins; and a very
special little girl, Lilly Beaudette.
The funeral service will be held at 10:00 a.m. on Saturday,
September 20, in the chapel at Gracelawn Memorial Park, 980 Turner
Street in Auburn. Lori's family, friends, and colleagues are all invited
to attend a celebration of her life at noon that day at the Masonic Hall
in Litchfield located on the Hallowell Road (across from the fire
station). In lieu of flowers, donations in Lori's memory, may be made
to Behavioral Developmental Services at St. Mary's Development
Office, P. O. Box 7291, Lewiston, ME 04243.