« Obituaries | Priscilla "Prets" Simion
Priscilla "Prets" Simion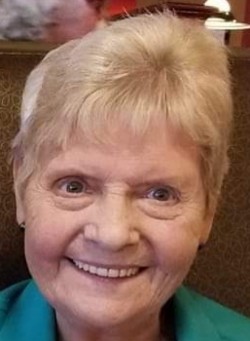 Date of Death: March 11, 2022
Date of Birth: June 25, 1944
Biography:
LEWISTON-Priscilla "Prets" C. Simion, 77, of Auburn, passed away on March 11, 2022, at CMMC in Lewiston. She was born on June 25, 1944, to the late Adolphe and Rose LaPointe.
She worked at several places in the area including, Pioneer Plastics, BIW, Clark Shoe, Bates Mill, Dunlop Agency, and The Chick-a-dee restaurant.
She was a member of Faith Baptist Church and enjoyed going to church. Prets liked to play Scrabble and Crazy 8's. She enjoyed listening to Elvis, attending bean suppers, bird watching, oldies music and classic movies.
Prets was predeceased by her parents, Adolphe (Barney) and Rose LaPointe; sister, Patricia LaPointe Levecque.
She is survived by her loving husband, Brian J Simion of Maine; son, Rodney Gagnon of New Hampshire; daughter, Shannon Gagnon of Texas; siblings, Richard LaPointe, Dorothy LeCompte, Robert LaPointe, and Dollie LaPointe Kincheloe; granddaughter, Amanda Gagnon; great grandsons, Donny Rich, and Bryce McPherson-Smith.
A service will be held at 4pm on March 20th, 2022, at Faith Baptist Church, 43 Washington Street N, Auburn ME, 04210