« Obituaries | Paul Grant Sheehy
Paul Grant Sheehy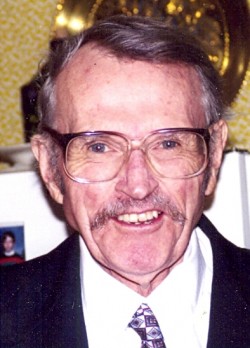 Date of Death: October 20, 2011
Date of Birth: October 8, 1926
Biography:
Auburn - Paul Grant Sheehy, 85, formerly of Main Street Lewiston, died following a long illness at Clover Manor on Thursday, October 20.  He was born in No. Norridgewock Maine, the son of Thomas J. Sheehy and Gertrude (Grant) Sheehy.  He was a resident of this community for most of his life.
Paul was educated in Portland, Calais and graduated from Cony High School, Augusta.  He attended Norwich University in Vermont, and graduated from the University of Maine at Orono.
Paul began his military service in the Army Specialized Training Program.  He was a veteran of WWII as part of the Occupational Forces landing in Japan in September 1945.    He also served in Korea as 1st Lieutenant in the famed 17th Infantry (Buffalo) Regiment, participating in No-Name Ridge, the Punchbowl, and Heartbreak Ridge Battles.
After his military service, Paul settled in Lewiston.    His professional career included working as a Salesman and Underwriter for the Metropolitan Life Insurance Company, and  a Revenue Agent for the State of Maine Bureau of Taxation.
He loved history, classical music, and was a true patriot never missing a Veteran's parade.
He was predeceased by his wife Lorraine of 60 years.  He is survived by his daughters, Angela Chabot and her husband Daniel of Turner, Mary Booth and husband Michael of North Yarmouth: brother Dr. Thomas Sheehy of Huntington, N.Y., brother-in-law, Dr. Gerald Poulin of Fall River, MA, sister-in-law and brother-in-law, Pauline and Walter Harris, of Topsham, sister-in-law Lucille Poulin of Lewiston,; and four grandchildren, Gunny Sgt. Randolph Chabot USMC of Washington D.C., Melanie Chabot of San Francisco, CA, Christopher Booth of Watertown, MA, and Jennifer Booth of Tampa, FL.
Family and friends are invited to a memorial Mass at Sacred Heart Church, Auburn, on Thursday, November 10 at 9:30 a.m., with a half hour greeting period prior to the Mass.   A military service will be held at the New Veterans Cemetery in Augusta at 2:00 at which time both Paul and Lorraine will be laid to rest together.