« Obituaries | Marden H. Seavey
Marden H. Seavey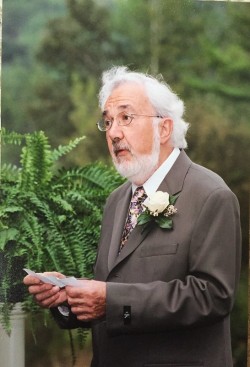 Date of Death: February 19, 2021
Date of Birth: January 12, 1929
Biography:
Brunswick -  Marden H. Seavey died on February 19, 2021 at Thornton Hall, Brunswick, ME.
Born in 1929, the son of Marden H. Seavey, Sr., & Kathryn Alice H. Seavey. At the time of his birth, his father was working for United Fruit Company in Cuba. The family moved to his father's home town of Westford, MA, soon thereafter.  He graduated from Westford Academy in 1946, and maintained friendships and correspondence with his Westford classmates Helen "Mickey" Crocker, Shirley MacDougall and John Waugh, throughout his entire life.
He attended Worcester Polytechnic Institute for 2 years before completing his undergraduate and graduate degrees at Harvard University in Applied Mathematics and Applied Physics.
He was employed at Air Force Cambridge Research Laboratories and MIT Lincoln Laboratory, where he pursued work in solid state physics, specifically magnetic resonance. Between 1970 and 1972 he worked at Philips Research Lab in the Netherlands. Upon returning to the US, he was a consulting engineer at Raytheon before joining Digital Equipment Corporation in 1982, where his research helped inform the design of early computer chips. After taking early retirement from DEC in 1991, he worked as a consulting engineer for Open Market and Hewlett Packard until retiring for good in 2001.
After a brief marriage to his first wife, Ann B. Seavey, and the birth of son Christopher, he met the great love of his life, Cynthia Nye, at The Arlington Street Church in Boston when they were both members of the choir. They married in 1963 and Marden adopted her two children, Clarissa and Nye. Together, they had two more children, Kathryn and Nathaniel.  Together, the family lived in the Netherlands from 1970 to 1972, where they traveled and camped throughout northern Europe, Spain, and the UK.
In 1978, Marden and his family moved from Westford to Carlisle, MA, where they were active in the First Religious Society of Carlisle and town politics until 1999, when he and Cynthia moved to Denmark, ME, to a house Cynthia designed on 9 acres of land. Over the next ten years they traveled to Europe several more times and continued to sing together at the First Universalist Church of Norway, ME, where Marden also served as church treasurer from 2001 to 2011, until Cynthia passed away from Alzheimer's disease.
In 2015, Marden sold his home, eventually settling at Thornton Oaks Retirement Community in Brunswick, ME. He had many happy adventures with his companion, Phyllis Chinlund, traveling to Nova Scotia and Costa Rica with her, attending movies and live stream operas, and also enjoyed many family celebrations of birthdays and holidays.
Marden was passionate about singing, reciting poetry, writing life stories and journals, keeping up with current events, hiking, and snow shoeing. He was full of wit, smart, and kind, and loved to keep the family in stitches with his antics and stories. He was quietly charitable with his family and many nonprofit organizations.
Marden was predeceased by his father, Marden Homer Seavey, Sr., his mother, Kathryn Alice Hodgkins, his wife, Cynthia Nye Seavey, his son, Christopher Seavey,  his uncles Morton Seavey and Gordon B. Seavey, aunt Barbara Seavey, and cousins Diane Goforth and Bruce Johnson.
He is survived by his children Clarissa Sawyer of Littleton, MA, Nye Sawyer of Concord, MA, Kate Seavey and partner Don Reed of Denmark, ME, Nat Seavey and wife Eryn of Waltham, MA, grandson Nicholas Sawyer Newcomb of Chelmsford, MA, cousin Sandra Francis of Manchester, England, cousin Loraine Martin of Lititz, PA, and his companion Phyllis Chinlund of Brunswick, ME.
A virtual celebration is planned for later this Spring. In lieu of flowers, please makes donations to the Friends of the Unitarian Universalist Association.