« Obituaries | Marjorie (Peg) Scott
Marjorie (Peg) Scott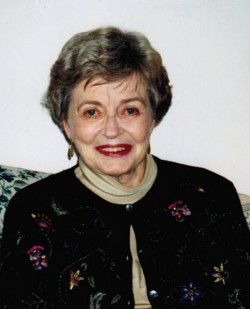 Date of Death: April 7, 2012
Date of Birth: July 14, 1920
Biography:
Marjorie (Peg) Scott died on April 7, 2012, in Falmouth Maine. She was born in Melrose Massachusetts on July 14, 1920; the daughter of Howard Stanley Tobey and Marion Goudey of Melrose, Massachusetts.
She was married to Dr Alfred Lane of Rochester New York in 1948, and Lewis Scott, of Melrose, Mass in 1992.
Peg graduated from Melrose High School and Vesper George School of Art. She went on to do further graduate work at Pratt Art Institute, in Brooklyn, New York..
She had a long career in advertising as a graphic designer in Manhattan, Rochester, New York, and later in Portland, Maine where she worked as Asst. Advertising . She was the Director of Shaw's Supermarkets until she retired in 1983.
Peg was an ardent believer in volunteering. She worked with CASA, Big Brothers/Big Sisters, and the Women's Alliance of First Parrish Unitarian Church in Portland.
A lifelong learner, she traveled with ElderHostel to Great Britain, Europe and Greece. She enjoyed reading and enrolled in the University of Maine Great Books class at age 85.
Through her hobbies of calligraphy, cooking and gardening she created beauty in her world every day.
She is survived by her daughter Susan Tobey Denman of Portland Oregon, her son Charles Lane, of Hingham, MA. and Willard Libby, her loving and loyal companion of Oceanview in Falmouth, Maine.
If desired, donations may be made to Oceanview Resident Assistant Fund, Oceanview Retirement Community, 20 Blueberry Lane Falmouth, ME 04105