« Obituaries | Dean D. Schuster
Dean D. Schuster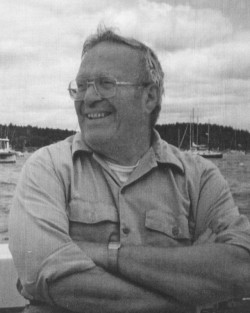 Date of Death: August 20, 2016
Date of Birth: May 10, 1929
Biography:
Harpswell, Maine - Dean Dickenson Schuster, age 87 of Harpswell, died peacefully surrounded by family on Saturday, August 20th. Dean was born with his twin sister Davia on May 10, 1929 at the Veil Hospital in Langhorne, PA. He was the son of Mildred and Frederick Schuster and was raised in Hyde Park, New York. He had an idyllic childhood and often recalled the day that President Roosevelt drove by and waved at him as he was delivering newspapers on his paper route. He graduated in 1946 from Roosevelt High School in Hyde Park and went on to college at New York State University at Delhi, graduating in 1948. He served in the United States Army as a Corporal in the 38th Combat Engineers BN at Fort Benning, GA from 1951 - 1953 when he was honorably discharged.
On July 12, 1953 he married his sweetheart, Shirley Tyndall in Poughkeepsie, New York. He was a dedicated husband and father to his two daughters, Kathryn Lynch and Lynne McGhee. Dean began his career in building construction in 1953 and completed over a dozen homes. In 1956 he became a self-employed ceramic tile contractor and maintained a successful career in New York, and then in Maine when he moved his family permanently in 1978. He retired in 2003 but his last tile job was completed at the age of 78. One of his favorite projects was the ship mosaic that remains in the lobby of Morse High School in Bath.
Dean worked tirelessly as a volunteer. From 1965 to 1978 he was an EMT and firefighter for the Roosevelt Fire Department, Engine 3. He worked his way to Lieutenant, Assistant Chief and finally Commissioner. After his move to Maine, he served as an EMT for the Harpswell Neck Fire Department from 1980-1990. He was a member of St James Church in Hyde Park and served for many years on the Vestry. He was also a trustee of the Elijah Kellogg Church in Harpswell, where he remained a communicant at the time of his passing.
Dean was a quiet man who deeply loved his family, friends and his community. He is survived by his wife of 63 years, Shirley Schuster, daughter Kathryn Lynch, daughter Lynne McGhee and husband Mark, grandson, Jonathan McGhee and partner Ariel Dunn, all of Harpswell, his twin sister, Davia Stoddard of Gloversville, NY, nephews Jeff Gardiner and wife Maria of Galway, NY, David Gardiner of Gloversville, NY, niece Andrea Ulrich, and husband John of Lake Worth, FL. Dean is also survived by many loving grand nieces and nephews.
The family wishes to thank the staff at Bodwell Nursing and Rehabilitation Center, Chans Home Health Care, John Carson, the Elijah Kellogg Church family and all of the friends and family who have reached out. Your loving care and support was greatly appreciated.
A memorial service and celebration of Dean's life with be held on Tuesday,August 30th at 11:00 am at the Elijah Kellogg Church, Harpswell, with a reception to follow. Memorial donations may be made to the Elijah Kellogg Church 917 Harpswell Neck Road, Harpswell or the Harpswell Neck Fire and Rescue, 1430 Harpswell Neck Road, Harpswell, ME 04079.