« Obituaries | John Grant Schlaack
John Grant Schlaack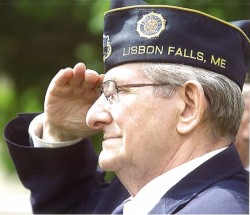 Date of Death: January 12, 2017
Date of Birth: September 14, 1937
Biography:
John Grant Schlaack, of Durham, died Thursday, January 12, at Hospice House, Auburn, following a lengthy struggle with cancer.
John was born to Viola Schlaack on September 14, 1937, in Owosso, Michigan.  After high school, he enlisted in the United States Navy, proudly serving as an Air Traffic Controller for 20 years.  On December 23, 1960, he married the love of his life, the former Margaret Ann Landry.
On retiring from the Navy, John returned to school and earned a Bachelor's Degree from the University of Southern Maine.  He completed his working years as a teacher of troubled teens.
John was a dedicated member of American Legion Post 66 of Lisbon Falls and took great pride in his volunteer work with other veterans.  He also enjoyed hunting and fishing, books and movies about the old west and, most of all, spending time with his family.
In addition to his wife of 56 years, John is survived by his two daughters and their husbands, Tanya (Kurt) Schaub of Livermore, and Erika (Marc) Gardner of Auburn, grandsons Antony and Lukas Gardner, and his chocolate lab, Don Quixote.  He also leaves many cousins and very special extended family members.
John's family wishes to thank the staff at Hospice House for their extraordinary care and comfort during his last days.
A celebration of John's life will be held at 10:00 a.m. on Saturday, January 28, at the Durham Congregational Church, 773 Royalsborough Road (Route 136), Durham.  In lieu of flowers, the family requests that contributions be made in John's memory to Androscoggin Home Care and Hospice, 15 Strawberry Ave., Lewiston, ME, 04240, or to American Legion Post 66 Scholarship Fund, P.O. Box 171, Lisbon Falls, ME, 04252.  Arrangements by Funeral Alternatives Lewiston.