« Obituaries | Frank C. Sawyer
Frank C. Sawyer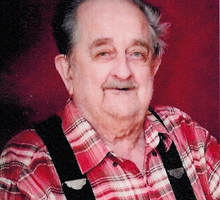 Date of Death: September 26, 2015
Date of Birth: August 9, 1926
Biography:
LEWISTON — Frank C. Sawyer Sr., 89, of Lewiston, passed away on Saturday, Sept. 26, in Lewiston.
He was born in Poland on Aug. 9, 1926, to parents Mellen and Ida Sawyer Sr.
Frank was married to Muriel Fish on Oct. 21, 1948. They had been faithfully married for 67 years.
For more than 30 years, he had worked in the mills, eventually retiring from Bates Mill Hill Division.
Frank enjoyed watching baseball, especially the Red Sox which was his favorite team. He also enjoyed fishing and he especially loved spending time with his family.
Surviving him are his children, Frank Sawyer Jr. of Pasadena, Texas, Steven R. Sawyer of Lewiston, L. Dennis Sawyer of Andover, N.H., Robin St. Laurent of Lewiston, Joyce Lessard and husband, Bob, of Greene, Corey Sawyer and wife, Lori, of Sabattus; a sister, Ida Chase and husband, Robert, of Turner; and many grandchildren, great-grandchildren and great-great-grandchildren.
He was predeceased by his parents; and two daughters, Shirley Sawyer and Joanne Berube.
Services will be held privately at a later date.
Condolences may be shared atwww.funeralalternatives.net.