« Obituaries | Frances Anne Sandlin
Frances Anne Sandlin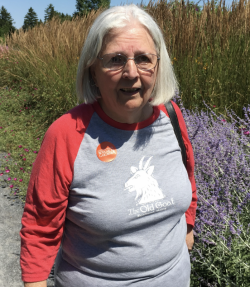 Date of Death: May 29, 2022
Date of Birth: August 25, 1937
Biography:
Frances A. Sandlin, age 84 (born Frances Anne Fogleman)

Loving mom - devoted wife - beloved grandmother - cherished friend - celebrated teacher - talented artist - tennis fanatic

Fran was born in Circleville, Ohio on August 25, 1937. She died on May 29, 2022 of COVID-19 in Augusta, Maine.

Fran was preceded in death by her parents Harry Fogleman and Ursula Chandler Fogleman, her younger brother William I. Fogleman, her grandson Colin Patrick Sandlin, and her grandson Nolan Ryan Sandlin.

Fran is survived by her husband of 64 years Norris Roger Sandlin, her daughter Karen Sandlin Silverman (husband Scott) and son Russel Lee Sandlin, grandchildren, and a great-granddaughter.

Fran graduated from the University of Cincinnati with a BA and a BS. She attended UC on a football scholarship and was a member of the Alpha Chi Omega sorority. She considered "Cincy" her hometown. She met Roger when they were fellow students at the University and her daughter was born there.

Fran moved a lot as a child when her father, a famed college tennis and soccer coach, and her mother, a librarian, moved between schools including Duke University, the University of Florida, the University of Cincinnati, and Davidson College. All those childhood moves served her well when Roger joined the Air Force. Despite the nomadic life she lived, she remained steadfast and resilient, setting down roots for her family and making a new home wherever they landed from Florida, Georgia, Texas (where her son was born), North Carolina (while her husband was deployed to Vietnam), South Carolina (where she met her lifelong friends the Shepards), Northern California, Southern California, and Alaska, before finally retiring in Delaware.

She was awarded a Certificate of Appreciation from the Air Force for her service as an Air Force spouse when Roger retired in 1984. After living in Delaware for 25+ years, she and Roger followed Karen and Scott to Indiana to become next-door neighbors and to enjoy revisiting their old stomping grounds. In 2014, she and Roger once again followed Karen and Scott and moved across the road in Dresden, Maine. 

Fran loved history and taught middle school history. Later in life she took up tole painting (folk art) and became so adept she was a much sought after teacher and opened her own shop and studio in Dover, DE.

Fran ran Sandlin Toys, the antique toy business she and Roger had for several years. They spent many (wicked early) Sunday mornings traveling to the Black Angus antique mall in Adamstown, PA where they ran a booth selling their treasures to collectors and competitors alike. Fran was an active member of the Antique Toy Collectors of America (ATCA), serving as their membership chair and in 2010 the ATCA awarded her the Happy Hooligan Award for Outstanding Service.

Even after retirement, Fran continued to enjoy traveling to ATCA toy conventions all around the world, including hosting a convention in Delaware. In addition to toy conventions, she loved a family trip to South Africa and Zambia to visit her granddaughter who was studying in Johannesburg.

Fran was a life-long fan of tennis and an avid collector of tennis memorabilia. She watched every major tennis event and enjoyed a visit to Wimbledon with her toy club friends. She loved tennis so much she even made a cake in the shape of a tennis racquet for her father's birthday one year. She loved her backyard koi pond, her grandchildren, decorating her home, entertaining, haggling for antiques and collectibles, Neil Diamond, and all the members of her family. She enjoyed reading a good mystery and was a great friend to all. She loved NCAA basketball and watching her favorite teams – Duke, Cincinnati, and Davidson. She also enjoyed watching the Philadelphia Eagles and any sporting event Russ participated in. 

In her later years, Alzheimer's Disease slowly took Fran away from her family. Fran's family is so thankful for the amazing caregivers who took such good care of Fran these last few years. Her family is especially thankful for the amazing "Cove" caregivers during her last year living at Glenridge.

If you wish to remember Fran, please consider a donation to the Glenridge Patient Activities or Alzheimer's Care Center, Alzheimer's Association, Spectrum Generations or Golden Oldies Senior Center. Services to be held at a later date.