« Obituaries | Armand A. SanSoussi
Armand A. SanSoussi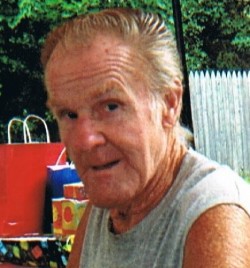 Date of Death: October 31, 2016
Date of Birth: April 26, 1941
Biography:
HARPSWELL - Armand A. SanSoussi "Red" of Harpswell passed away peacefully surrounded by family and loved ones on October 31, 2016. He was born in Concord, New Hampshire on April 26, 1941 to Aaron and Arlene SanSoussi.

Red joined the United States Army in 1958 when he was 17 years old. He graduated boot camp at Fort Dix, NJ. He served in Germany for nineteen months during the Vietnam War and served 6 total years in the Army.

Red was quiet, a man of few words with a heart full of love. He taught his family that love is an action not a word. He could be found excavating or chopping down trees in his younger years. Later in life he enjoyed watching baseball and hockey. He was a Red Sox and Bruins fan in true New England fashion. He also enjoyed working with his daughter Cheryl, on the trash run.

Red is survived by his six children. A daughter, Cheryl L. Ward and her partner Ronald L. Dehahn of Harpswell; a daughter, Roxanne B. Smith and her Husband Alan M. Smith of Ocala, FL; a son Steven J. SanSoussi of Ocala, FL; a son, Jeffrey K. SanSoussi of Cantril, IA; a son, Michael A. SanSoussi; and a step daughter Leeann P. Faulkner and her partner Michael Way of Ocala, FL. Red is also survived by siblings, Sue, Ann, and Donald.
He is also survived by nine grandchildren; Amanda Peacock, Amber Lane, James Ward, Jason Ward, James Davis, Brandon Faulkner, Jada SanSoussi, Emylee and Robert Way, Sean Barker, Kelly Dehahn, Patrick Dehahn and nine great-grandchildren. Red will be greatly missed by many family members and friends.

Red was predeceased by his parents; and a sister Angela LePage.

Please join the family and friends of Armand "Red" SanSoussi as we celebrate his life. The celebration will be held from 3:00 to 5:00 pm on Saturday November 5th at Pathway Vineyard Church, 2 Columbus Drive Brunswick, ME. Pot luck menu, so please feel free to bring a dish.

Interment to be held in the summer of 2017.