« Obituaries | Jerome Salvadalena
Jerome Salvadalena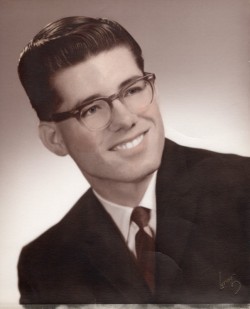 Date of Death: May 31, 2023
Date of Birth: October 17, 1945
Biography:
Jerome J. ( Whirley ) Salvadalena 77 of Auburn, went to be with the Lord
on May 31, 2023, knowing that he would be greeted by his parents
and other loved ones, in a life without the constant pain that lle was afflicted
with.
He was born in Auburn, Maine on October 17,1945, the son of the late
Auburn Deputy Fire Chief Frederick M. Whirley and former Mary L. (
Bilodeau ) Whirley, the youngest of 13 children. Jerome graduated from
Edward Little High School in 1964. Immediately afterward, Jerome worked
for Geiger Brothers in Lewiston for a short time, after which he decided to
move to New York City, where he received his work experience and formal
education. He also was involved with and greatly enjoyed counseling
potentially suicidal children.
While in New York City, Jerome met his friend and life partner, Dean, in
1988, formalizing their relationship in 2013.
Jerome loved gardening and nature, spending time watching birds and
feeding them. He also loved reading and photography. Jerome was fortunate
to have journeyed throughout Europe on numerous occasions, as well as
Hawaii, Canada and the Virgin Islands. He also loved travelling throughout
Maine, with his favorite location being Boothbay Harbor, where he and Dean
would stay often for Windjammer Days.
Jerome leaves behind his spouse, Dean and his beloved dog Siobhan, along
with three sisters, Doris Webster of Florida, and Margaret Whirley and Joan
Hebert, both of Auburn. He was predeceased by his parents and three very
special sisters, Mary Charpentier, Georgette Cain and Patricia Anderson, in
addition to six brothers, Patrick ( twin brother to Patricia Anderson ),
Thomas, Frederick Jr., Michael, John, and Patrick R.
Additionally, he leaves behind many nieces, great nieces, nephews and great
nephews.
A private graveside service will be held at Mt. Hope Cemetery in Lewiston, ME.