« Obituaries | Isabel C. Ryan
Isabel C. Ryan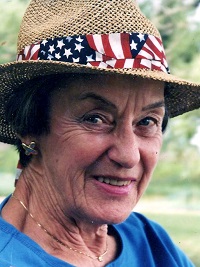 Date of Death: December 12, 2014
Date of Birth: May 5, 1925
Biography:
BRUNSWICK, MAINE - Isabel C. Ryan (née Mason) died peacefully on Friday, December 12, 2014 in Brunswick, Maine, with her surviving children by her side.
Isabel was born in Toronto, Canada, on May 5, 1925. During war efforts, Isabel worked for the Toronto Star, where she authored a number of articles for the Women's section. She met her husband, Matthew Ryan, in the mid-1940s at the University of Toronto skating oval, thereby beginning a wonderful partnership of 65 years. She was predeceased by her husband in 2010.
Isabel and Matt began their married life in Toronto, Canada. In 1953, with three children in tow, they moved to the United States, finding home in DeWitt, New York. Before yoga was a popular activity, Isabel taught yoga at the Syracuse YMCA for several years. At the youthful age of 55, she graduated with honors from Onondaga Community College with an Associate degree in Recreation Leadership. Isabel began a career at Loretto Health and Rehabilitation Center, taking her residents to Syracuse Chiefs games and even on hot-air balloon rides, keeping them active with daily crafts, and other joyful activities.

Isabel had a lifetime love of the outdoors and was an avid sports woman into her 80s. She especially enjoyed hiking, skiing, and above all, golfing. She once scored a hole-in-one, and loved to tell the story of how surprised she was to find her ball in the cup. A lifetime bridge player, Isabel played with the same two bridge groups in Syracuse for over five decades.
Over the years, Isabel and Matt explored much of Europe and North America together—including several Elderhostel trips, combining their love of travel, lifelong learning, and collegiality. Their home on Drumlins Terrace was a special place to return to, and in 30-plus years they never tired of its view of the 18th fairway.

Anyone who had the privilege of getting to know Isabel reveled at her zest for life. She always had her beautiful smile and twinkling blue eyes to share with all she met. She carried herself with grace and style. When her husband passed away in 2010, Isabel moved to Brunswick, Maine. Isabel again showed grace and resiliency as, well into her 80s, she adapted to her new life.

Isabel is survived by her children Michael, Nancy, and Rob, eight grandchildren, and seven great grandchildren. Her daughter Wendy died suddenly in 2009. Her remaining sibling, Robert Mason, resides in Canada.
We will miss her dearly.

Isabel and Matt attended St. David's Episcopal Church in DeWitt for many years, and a Celebration of Life is planned at the church on Saturday, May 16, 2015, at a morning time to be announced. Isabel will be interred next to her husband in the church Memorial Garden.

In her behalf, donations may be made to the Alzheimer's Association.