« Obituaries | Christina C. Rule
Christina C. Rule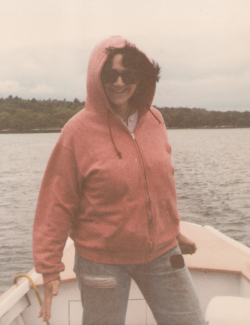 Date of Death: October 18, 2014
Date of Birth: September 19, 1950
Biography:
PORTLAND - Christina Cameron "CiCi" Rule of Portland, Maine, Passed from this world at Evergreen Manor in Saco, Maine on the day of October 18, 2014, at the age of 64.

Christina was born September 19, 1950 in Concord Mass, to Francis T. and William H. Rule. Christina grew up in Arlington Mass, while summering on Peaks Island, Maine, and Lake Moxie. She attended school and went on to graduate from S.U.N.Y at Stonybrook with a B.A. in Anthropology, and a Bachelors in fine arts. A naturalist, and cartographer, Christina worked for the Bureau of Parks and Recreation in Augusta, Maine, creating maps and pamphlets with her acute sense of graphic design.
However, it was not until she became a single mother of 4, that her greatest talent would begin to truly shine. An educator at heart, Christina had a way of turning any circumstance into a learning opportunity, coupled with an uncanny ability to impart her wisdom in a way children of all ages could grasp. Many a time, a simple car-ride from point A to point B would become a lesson in geological history. With mere words Christina described glaciation so vividly, one could almost see mile-high ice sheets grinding over, and shaping the landscape.

Many summers were spent in the Cascade Mountain range of Washington state, 4 kids in tow, climbing, rock-hunting, and storm chasing. Christina was a geology expert, and also earned Awards of Merit from the National Weather Service in Global Weather, thunderstorms and lightning, Oceanography, tropical weather, atmospheric weather, and synoptic meteorology. She built up quite a rock collection, and anytime a mover asked, "Watcha' got in these boxes, rocks!?" she would smile and reply, "Exactly".
Christina's insatiable thirst for knowledge, and sense of wonder for the world around her, was thankfully imparted to her children, and grand-children. The things she taught us will continue to live on in our hearts and minds, and will be passed on to future generations. The wide and deep Kennebec will remind us, "I bet there's salmon in there!" Curiosity, premise, info, speculation, test, theory. Always seeking new knowledge, this is our greatest inheritance.

"Thinking one knows a thing is a most effective barrier against learning. One must always seek an attitude of unknowing, this is the hallmark of an open mind. A fool says in his heart, "I know that," but the wise man sayeth, "Teach me for I know nothing.""
-paraphrase; Frank Herbert
Christina is survived by sons, David Cotter; An Interface Surgeon for Adobe Systems. Jon Hammond; An Author, illustrator, and father of 2 (Ali'yah and Leto Hammond); and Bradley Hammond; A student of Civil Engineering and all around cool guy.
And Daughters, Keagan Hammond; Artist, musician, mycologist, and mother of son Lothian Maclachlan. And Faith Hammond; The undisputed most hard-core lobster-slinging chick on the Portland waterfront.
Christina also has surviving siblings, brothers Philip and Alex Rule. And Sisters, Patty, Deb Rule, and Vicky Hall, as well as nieces and nephews.
A service will be held for family and friends at a time to be determined.  
"Interesting Day"
A tribute, By: Jon Hammond
The sun rises. It is 1950. Golden light shines off the water. Your life has just begun. Time passes. It is 1960. The world is changing. You are along for the ride. By mid-morning you are a rebellious teen. Decisions you make now will effect your whole life. The sun continues to rise. By lunchtime it is the mid 80's. Time after time, and against all odds, you give birth to remarkable children. The kind whose very presence change the course of the lives of people around them. You are mother, father, teacher, and most trusted friend as you mold these children into who they will become. It is afternoon. Your children grow. They distinguish themselves as individuals, but everything they are they owe to you. It is the mid 90's, and you are doing the best you can. The sun begins to dip into the west. It is 2006 when you meet your first grandchild. Then another, and another. The sun begins to set. Your body succumbs to time, consequence, and fate. In the twilight your children gather 'round. You can hardly see them now, but you know they are there. They thank you for all you have given them, and stay by your side until the last bit of sun dips below the horizon. Your brilliance sets the heavens ablaze. It has been a very interesting day....