« Obituaries | Jacqueline E. (Jackie) Roy
Jacqueline E. (Jackie) Roy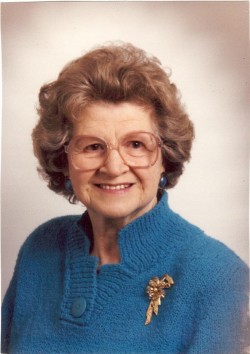 Date of Death: September 9, 2010
Date of Birth: April 8, 1917
Biography:
AUBURN – Jacqueline E. (Jackie) Roy, 93, of 152 Seventh Street, Auburn, died Thursday, September 9th, 2010 at her home, surrounded by her family, after a short illness. 
She was born in Lewiston, the daughter of Yvonne and Willie Thibault. She attended local schools and graduated from Beauty School in 1953 and then worked as a hairdresser in Portland.
Jackie married Larry Roy in 1938 and they were married 61 years until he died in 1999.
They had two daughter s and Jackie became a stay at home mom. She provided a warm, safe, and loving home for her husband and daughters.
She belonged to St. Louis Senior Citizen Group and was so happy to spend Wednesday afternoon with  her  dear friends at St. Louis Beano.
Jackie is survived by her daughters Madeleine Roy and her partner Glen Trynor of W. Gardiner, Anita Veilleux and her husband Larry of Harpswell and Arizona;  grandchildren Gerry and Gary Nadeau of Monmouth, Kathy Armstrong of Livermore, and Sandra Jolley of Arizona; great-grandchildren  Ashley, Tyler, Darian, and Brittany Nadeau, Michael Armstrong, Andrew, Willy, Lilly and Lucy Jolley; great-great-grandchildren Kaydence Holt and Khloe Nadeau; sisters Mrs. Simone Caron of Oregon, Mrs. Colette Dufresne of Lewiston; and many nieces and nephews.
Her joie de vivre and positive attitude will be missed by all. 
A Memorial service at Sacred Heart Church, Auburn, on Tuesday, September 14th, at 10 AM. In lieu of flowers, please donate in Jackie's memory to the Androscoggin Home Care & Hospice, 15 Strawberry Avenue, Lewiston, ME 04240.