« Obituaries | June Irene Rowland
June Irene Rowland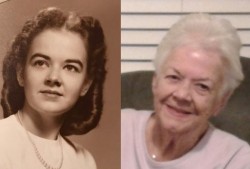 Date of Death: December 31, 2018
Date of Birth: May 18, 1929
Biography:
HARPSWELL - June Irene Rowland, 89, of Harpswell, ME, died December 31, 2018 at Mid Coast Hospital in Brunswick, ME with family by her side.
June was born May 18, 1929 in Hartford, CT, the daughter of Robert J. Rowland and Irene Buxton Rowland.
She graduated in 1947 from William Hall High School in West Hartford, CT, and in 1951 from Syracuse University - School of Music, Syracuse, NY.
June had a beautiful voice and was very active as a soloist in many organizations in the Hartford, CT area, and along the CT shoreline. In particular, she performed in the lead role in numerous Gilbert and Sullivan operettas, and was also the soloist at several churches.
She married Richard H. Susemihl in 1951, and lived in Guilford, CT from 1960 – 1999, when she moved to Maine to be near family.
She leaves three daughters, Leslie S. Simpson (Peter) of Lexington, KY; Wendy L. Susemihl of Harpswell, ME; and Donna L. Susemihl of Harpswell, ME; and one son, Scott R. Susemihl of North Berwick, ME. She also leaves six grandchildren and one great-grandchild.
June was a member of First Baptist Church of West Hartford, CT, and of First Congregational Church of Guilford, CT.
At June's request, there will be no services; burial will be private.
In lieu of flowers, contributions in her memory can be made to Midcoast Humane, 190 Pleasant Street, Brunswick, ME 04011, or to The Iris Network, 189 Park Ave, Portland, ME 04012.