« Obituaries | Joan Alpert Rowen
Joan Alpert Rowen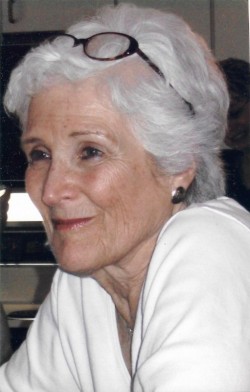 Date of Death: July 3, 2020
Date of Birth: August 21, 1934
Biography:
Brunswick.  Joan Alpert Rowen, 86, passed away peacefully at home on July 3, 2020.
Born in 1934 in Bronx, NY.  Daughter of Sarah (Silver) and Phineas (Arthur) Rosenzweig.  Joan attended Bronx High School of Science, Queens College and Fairfield University where she received her Masters Degree in Psychology.  Joan had many careers throughout her life.  She worked as a school psychologist for the Stamford, Connecticut school system for many years. After retiring from the school system, she ran Joan Alpert Antiques selling primitives and fine basketry in Maine and Connecticut. Joan was a mid-career model for an agency in NYC doing commercial and print work.  For 62 years she was a loving mother to her three children and was always there to share in the joys and challenges of their lives.
In her younger years, Joan was active in both the Sierra Club and the Appalachian Mountain Club.  She and her former husband, Paul, spent most weekends hiking, canoeing and camping.  They taught their three children to love and appreciate nature. Joan had a keen eye and sense for all things beautiful.  She was forever collecting "treasures" from the natural world and displaying them indoors. She had a talent for bringing simple beauty into the lives of her family, expressing the joy and peace she found in the out of doors.  Joan enjoyed knitting, gardening and was an experimental cook, introducing her family to a variety of interesting cuisines.
Family trips were quite remarkable. Joan and Paul took their three young children into the wilderness on many exciting adventures. One memory that stands out is a two week canoe trip down the Allagash River in Maine, camping along the riverbank at night.
Family and friends were very important to Joan. She took great interest in the lives of her children and grandchildren.  Joan had many dear friends over the course of her lifetime.  She always made time to listen and help people along their way. Joan had a wonderful sense of humor, a beautiful smile and a gift for making people feel comfortable.
Joan began the next chapter of her life when she married Herb Rowen.  They lived in the Bay Area of California until moving back to the East Coast settling in Maine.  Joan and Herb shared many happy years together. In Maine, they hosted large Thanksgiving gatherings that the whole family looked forward to every year. 
Joan is predeceased by her parents and her brother Martin Rosenzweig.  She is survived by her loving husband of twenty-eight years, Herbert Rowen of Brunswick, ME; her three children, Liz Alpert Fay and husband Steve of Sandy Hook, CT, Karen Ressel and husband Steve of Bar Harbor, ME and Mark Alpert and wife Marguerite of Wethersfield, CT; seven grandchildren, Aron and Chelsea Fay, Emma, Nick and Jake Ressel, and Max and Grace Alpert. 
In lieu of flowers, donations may be made to Chans Hospice Care, 60 Baribeau Drive, Brunswick, ME 04011