« Obituaries | Norman E. Rowell
Norman E. Rowell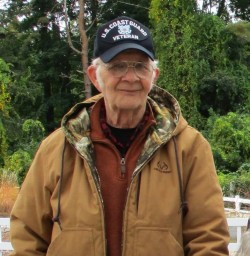 Date of Death: March 1, 2023
Date of Birth: December 13, 1943
Biography:
Beloved Husband, Father, Grandfather and Great Grandfather, Norman E. Rowell, Jr. passed away March 1st, 2023, with loved ones by his side.
Norman was born in Bath, Maine on December 13, 1943.  Norman graduated from Morse High School in June, 1963 and served in the Coast Guard from 1965-1969.
Norman married the love of his life, Dorine Carla Erlebach, on September 23, 1967, and they were married for 49 years.  Together, they started a family, beginning with their two daughters, Carry Ann Rowell and Audrey Marie Rowell.  He was a devoted and loving husband; in the later years of his marriage, he became his wife's caretaker and proved that he would always be there for her, until her untimely passing in August of 2017.   Norman was the type of father who was always there for his daughters (even if it meant a midnight right to Phippsburg to pick them up from a party).  Norman provided for his family working as an accomplished and talented welder at Bath Iron Works for many years, until his retirement.
Over the years, Norman got promoted to the title of "Papa", and wore it proudly.  He was Grandfather to 4 children, Brianna Stilkey, and Brooke, Caryn and Alec Murray.  Papa's Grandchildren share many warm, happy memories of spending time at their Mimi and Papa's house; it was their favorite place to be.  Papa was always someone they could count on, always just a phone call away.  He was a Great Grandfather to Sophia Kendall, Olivia Stilkey and Freya Murray.  When Sophia was born, he welcomed her father, Gabe Kendall, into the family.  Papa was enamored by his little girls, always doting on them and smiling so big whenever he got hugs; they were so lucky to have a Papa who held them so near and dear to his heart.  Papa was happiest amongst his family.
Norman was a quintessential Mainer, always wearing a flannel shirt with a Carharrt jacket and Dickie jeans, and he never went anywhere without a baseball hat on.  Naturally, as a Mainer, he was a deer hunter, and had fond memories of hunting with his close friend and family member, George Moreau, whom he also enjoyed playing guitar with.  Papa loved listening to music and was a frequent flier of BullMoose and The Music Center.  He still used flip phones, didn't use email and paid his bills in person.  He frequented Puffin Stop in Bath on a regular basis, mingling with staff and picking up his lottery and scratch tickets.  Papa also loved to feed all the critters in his yard, just like his late wife used to.  He also enjoyed watching westerns and The Three Stooges, and reminiscing and talking about the good 'ol days, when life was a lot simpler (and less expensive).
Papa will be missed for his unmatched cynical, yet sly sense of humor that would either make you smile or roll your eyes and shake your head;  his dry wit, mischievous smile, sarcasm, inappropriate jokes and funny faces he would make; the way he could fall asleep anywhere, still wearing his boots, as long as he could recline and tip his hat down.  Most of all, he will always be remembered for his unwavering love and dedication for his family.  He was our rock, our protector and the one who looked out for all of us.  Life sure won't be the same without him in it, but we are so blessed to have such wonderful memories of him.  We pray that you are up in heaven, at peace, reunited with Mimi.  Until we meet again, we love you so much.
Norman was predeceased by his parents, Norman E. Rowell, Sr. and Dorothy Collins-Rowell; his Stepmother, Alice; wife, Dorine Rowell, and brother, David Rowell.  He is survived by his daughters, Carry and Audrey; all of his Grandchildren and Great Grandchildren; his sister in-law, Donna Rowell and his niece, Melissa Rowell; sisters, Vikki, Sheree and Laurie, and his brother, Keith.
A celebration of Norman's life will be announced at a later date, for all to gather in his memory.  Condolences may be shared at FuneralAlternatives.net.