« Obituaries | Brenda A. Roussel
Brenda A. Roussel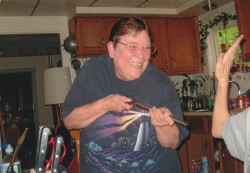 Date of Death: January 6, 2014
Date of Birth: May 11, 1954
Biography:
Brenda A. Roussel, 59, of Augusta, passed in the loving company of family and friends on January 6th, 2014 at her home.
She was born on May 11th, 1954 in Augusta, the daughter of Vincent and Lucille (Toussaint) Roussel.
Brenda was a graduate of Cony High School after which, she was a long time employee of MaineGeneral working in the kitchen and the eventually in the Billing Department.
She was a long time member of St. Mary's Catholic Church of Augusta and also St. Paul Center's Prayer Group. Brenda enjoyed visiting Pemaquid Point and the ocean but her greatest love was that of nature where she "felt closest to God'.
She is survived by her partner of 13 years Linda Gagnon; mother Lucille M. Roussel; sisters Nancy L. Parks, Linda Porter, Lizette Roussel; brother Marc Toussaint; 1 niece; 4 nephews; 14 cousins; and 2 great-nieces. Brenda was predeceased by her father Vincent.
"May the woods be warm and welcoming and sun dappled paths Lead you to your Rest"
Family and friends are invited to a memorial Mass on January 27th at at St. Mary's Church, 41 Western Ave., Augusta. Committal services will be held in the spring at St. Mary's Cemetery, Augusta. In lieu of flowers, donations may be made in her memory to St. Mary's Church, C/O St. Michael Parish, 24 Washington St., Augusta, ME 04330