« Obituaries | Stephen Bunker Rohrbaugh
Stephen Bunker Rohrbaugh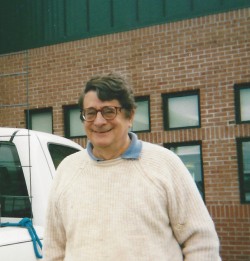 Date of Death: June 1, 2016
Date of Birth: October 9, 1938
Biography:
Hallowell – Stephen Bunker Rohrbaugh, 77, of Hallowell died Wednesday, June 1, 2016 at the Maine General Medical Center in Augusta. He was born in 1938 in Philadelphia, the son of Lewis H. & Ruth Bunker Rohrbaugh. As a result of his father's career as a government & university administrator, her grew up in places as far apart as Washington, D.C, Bagdad, Iraq and Fayetteville, Arkansas.
Steve was a Cum Laude graduate each of Westtown (PA) School (1956), Amherst College (1960), and Harvard Law School (1963). In 1963-64 he was a Knox Fellow from Harvard at Jesus College, Cambridge University. He began his career as a corporate and tax lawyer with large firms in Washington & New York before returning to Maine in 1974 to practice in Rockport and Camden. He also, along with his wife, ran a small main order postage stamp business. He retired to Hallowell in 1993.
Steve is predeceased by his brother, Lewis Bunker Rohrbaugh. He is survived by his wife of 42 years Barbara (Falcone) Rohrbaugh of Hallowell; his first wife Eleanor of South Carolina, and their son Guy of Auburn, Alabama, an Associate Professor of Philosophy at the University; Guy's wife Sonoma and four grandchildren. Also by his sister Dr. Joanna Bunker Rohrbaugh, of Cambridge, MA and her family.
At Steve's request there will be no services. If you wish, memorial gifts may be made to the Hubbard Free Library, 115 Second St., Hallowell, ME 04347. Arrangements are under the care of Funeral Alternatives, 198 Western Ave, Augusta, Me www.funeralalternatives.net