« Obituaries | Reymundo Rodriguez Jr.
Reymundo Rodriguez Jr.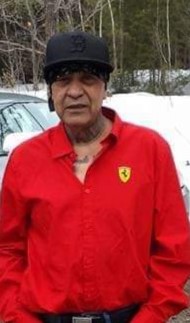 Date of Death: August 31, 2021
Date of Birth: June 1, 1959
Biography:
Reymundo Rodriguez Jr., 62, of Turner, ME, passed away from heart complications on August 31, 2021, at Central Maine Medical Center in Auburn, ME after a long battle with kidney disease. He was born to Reymundo Rodriguez Sr. and Marcolfa Rodriguez on June 1, 1959, in Sandusky, OH. He was predeceased by his father and mother Reymundo and Marcolfa Rodriguez. He is survived by his wife of 38 years Dora Rodriguez of Turner, ME, his daughters Veronica Carrillo and her husband Jose of La Joya, TX, Karina Rodriguez and her significant other Kurt Sturtevant of Turner, ME, his sons Roel Rodriguez and his wife Yadira of La Joya, TX, Reymundo Rodriguez III and his significant other Somer Spencer of Turner, ME, Noe Rodriguez and his significant other Mandy Richardson of Turner, ME, Oscar Rodriguez and his wife Morgan of Greene, ME his four brothers, two sisters, and  his 16 grandchildren. 
Reymundo loved boating and fishing, he would cook up almost anything he caught. He enjoyed spending time surrounded by his family, having BBQs listening to his Corridos, playing corn hole, playing poker, drawing and cooking for his family and friends. You never knew what you were going to get in his tacos, could be cow head, cow tongue, regardless he was an excellent cook. He traveled a lot, driving from Maine to Texas and to Oregon to visit relatives and he had many adventures along the way. He enjoyed telling stories of his past, his face would light up as he reminisced of his youth and it was as if you were listening to something out of a movie.
There will be a celebration of life at Reymundo's close friend Lonnie Richardson's house at 1661 Auburn Rd. in Turner, ME on Sept. 25, 2021, from 1-5 pm. Reymundo Rodriguez will forever be missed by all who loved and knew him including his special dog, Gussie.