« Obituaries | Fernand Marcel Rodrigue
Fernand Marcel Rodrigue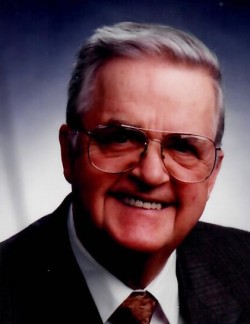 Date of Death: March 3, 2022
Date of Birth: August 14, 1928
Biography:
Fernand M. Rodrigue
1928 – 2022

LEWISTON – Fernand Rodrigue, 93, passed at his home on March 3 with his family by his side.
He was born in Lewiston to the late Fernande (Lacasse) and Paul (Pete) Rodrigue both from Canada on August 14, 1928.
He attended Lewiston High School, then joined the Army in the Engineer Corp and served in Germany. Upon returning, he went to Bliss College, and majored in accounting and business; then continued his studies at Bryant College in Rhode Island.
In 1955, he owned a restaurant with his wife, the Cozy Café. In 1960, he went to work for the Prudential Insurance Co. selling life insurance; and in 1971, he became the Chief City Assessor for Lewiston until his retirement in 1991.  After that, the Lewiston Housing Authority appointed him to the board of directors, which he chaired for 25 years.
In 1953, he married the love of his life Alma Tardif of Lewiston. They spent 49 years together, raised their 2 children and enjoyed spending time with their extended family. His greatest joy was his only grandchild, Christopher. They had a very close relationship. He loved to travel with his wife, go to different restaurants, go to the beach, and take scenic drives. He enjoyed golfing, gardening, and he was a skilled woodworker making furniture, along with remodeling and putting an addition to his home. People loved his many stories and sense of humor.
He is survived by his daughter, Doris Martineau and her husband Roger of Sabattus; his grandson, Christopher Martineau of Carthage, Texas; his brother Robert Rodrigue of Lewiston; his sister-in-law, Edwina Rodrigue and several nieces and nephews. He was predeceased by his wife, Alma Rodrigue; his son, Paul Rodrigue; his brother, Roger Rodrigue; his brothers -in-law and sisters-in-law and his companion of 17 years, Diantha (DJ) Sargent.
Visitation will be at Funeral Alternatives, 25 Tampa Street, Lewiston, on Monday, March 14 from
4 to 6 pm. A Mass of Christian Burial will be celebrated on Tuesday, March 15 at 10 am at Holy Family Church, Sabattus Street, Lewiston.