« Obituaries | Arlene Bernier Ouellette Roach
Arlene Bernier Ouellette Roach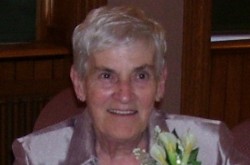 Date of Death: December 24, 2017
Date of Birth: January 26, 1936
Biography:

Arlene Bernier Ouellette Roach passed away on Christmas Eve after a long illness. She was born on
January 26, 1936, the second child born to Reine Blanche Vachon and Lucien Bernier Sr. She married
her first husband, Normand Ouellette Sr. in 1954 and had 8 children. She married her second husband
Robert "Flick" Roach in 1974 and had 1 son.
In her teens she was a majorette for the Jacques Chartier Drum and Bugle Corp. During her life she
worked in local shoe shops and worked waitressing at Martindale Country Club, Cooper's Restaurant,
Poland Spring Hotel and the Wentworth Hotel in New Hampshire. While waitressing at the Poland
Spring Hotel, she met Sonny Liston and Mohammed Ali (when he was known as Cassius Clay) the night
before their big fight.
After she married Flick, they traveled to Indiana, Florida, Maine and Michigan, where they finally settled.
They lived on Mackinac Island, Michigan, where she worked in several hotels doing housekeeping. She
was working for the Island House Hotel on Mackinac Island as the Executive Housekeeper when she
retired at the age of 70. After retiring she moved to Maine to live with her daughter, Susan.
She is survived by her children; Susan Trottier and husband Gerry of Minot, Normand Ouellette Jr.and
wife Patti of Indiana, Paul Ouellette and wife Sissi of Michigan, Tina Campbell and husband James of
Virginia, Daniel Ouellette of Florida, Kim Ouellette and fiance Tim Richmeier of Arizona, Rob Ouellette
and wife Bonnie of Auburn; brother Lucien Bernier Jr. of Gray; Aunts Marguerite Nadeau, Rita Berube,
Uncle Gaston Vachon all of Lewiston; her nieces Nancy Windle, Linda Verrill, Annette Clark and Diane
Bernier; nephews David, Ronnie, and Albert Bernier, Daniel and Donald Morin; Her 18 grandchildren
James, Aimee Lynn, Jason, Jessica, Kevin, Lexy, Chauntel, Nicole, Jennifer, CarolAnn, Anthony, Danielle,
Arielle, Caitlin, Heather, Kayla, Wendy and Ashley; 10 great grand children, Tenisha, Hannah, Alexis,
Hunter, Tegan, Rosalie, Jada, Jaxson, Ethan, Dawson, and baby girl McKinley due in February and 1 great
great grandson Tucker James.
She was predeceased by her husband Flick, her daughter Carol Ann Maciejewski, her son Robert L.Roach
Jr., her parents, her Godparents Stephanie and Volare Vachon, her sister Lilliane Morin and grandson
Justin Ouellette.
As per her request there will be no funeral.