« Obituaries | Kenneth Rideout Sr
Kenneth Rideout Sr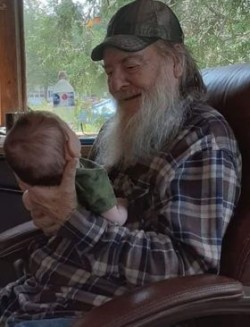 Date of Death: August 20, 2021
Date of Birth: September 19, 1939
Biography:
AUBURN – Kenneth Rideout Sr., 81, of Mechanic Falls, died on August 20, 2021, at the Hospice House in Auburn. He was born September 19, 1939, in Lewiston, Maine, his parents John and Edna (Wallace) Rush then raised his siblings and himself in Harpswell, Maine.
Ken spent many years working as a fisherman, and he loved lobster fishing and clam digging.
Ken enjoyed tinkering with boats and being at the coast, he liked to play the harmonica and guitar. He also enjoyed going for rides with his longtime partner, Alice Eastman, and they would often frequent places like Harpswell and Grafton Notch. Ken and Alice were seen at every family outing or gathering. Ken loved all of his family dearly, and enjoyed spending time with all of them.
He is predeceased by his parents; siblings, Marion, Dawn, Fanny, and Evelyn; longtime partner, Alice Eastman; daughters, Judith Therianos, and Jennifer Scammon; and grandson, Shane.
Ken is survived by his brother, Gerry; sisters, Jean and Valda; his son, Ken Rideout Jr, his partner Gena and their three sons, Malachi, Lucas, and Jude; his daughter, Janice, her husband Mike Mullen, and their children, Sean, Alicia, and Nick; daughter Amanda Eastman, and her children, Isaiah, Atrayu, Willow, and Josiah; grandchildren, Shawn, India, Charlotte, Andy, Vannessa; his five step children; their children and grandchildren, whom of which he loved as his own.
Per Kens request there will be no service.
In lieu of flowers please gather with your family and take time to enjoy each other's company, listen to 'On the Road Again' by Willie Nelson in honor of him and Alice.