« Obituaries | Peter Richmond
Peter Richmond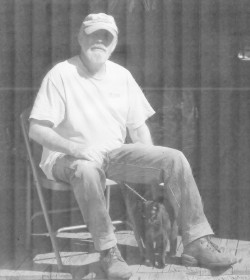 Date of Death: March 24, 2015
Date of Birth: January 8, 1948
Biography:
Peter Richmond resided in Madrid Township Maine
Peter passed away on 3/24/15 after a brief battle with cancer at the Hospice House in Auburn. 
He was retired Navy but also served in the Coast Guard and the Army Reserve.  He was a member of the Nezinscot Lodge #101.   He was passionate about sailing the warm waters of the tropics – from the British Virgin Islands to Puerto Rico to the Bahamas – he loved being on the water.  He also loved being outdoors with his best friend of the last five years Norma Martinez.  He loved teaching his great-grand son, Eli, the 4-wheeler trails of Madrid and going snorkeling in the cold waters of Blue Ledges.
He is predeceased by his wife Robbie, his mother Jenny Pearl, his step-father Leo Pearl and his father Theodore Richmond Sr.- two sisters Bev and Rhoda, one brother Carl.
He is survived by his son Peter and his wife Judy, his daughter Jo and her partner Brian, his grand-children Erin and her family, Jaime and her family and Eben and his family.  His brother Bud and sister Lois.  His many, many nieces and nephews.  
A celebration of life will be held in July on #6 Road.
In lieu of flowers, donations should be sent in his honor to the Hospice House of Auburn.
He was loved by many and will be missed by all!!