« Obituaries | Ronald (Ron) Edwin Richardson
Ronald (Ron) Edwin Richardson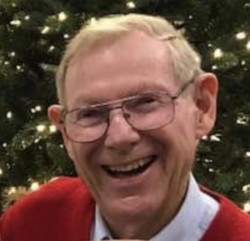 Date of Death: June 24, 2022
Date of Birth: September 23, 1938
Biography:
Ronald (Ron) Edwin Richardson, 83, of West Boothbay Harbor, Maine, died on June 24, 2022 at his home surrounded by loving family.  He was the beloved husband of Lorrie M. Richardson for 57 years. 
Born September 23, 1938, he was the only son of the late Marsden (Richie) Richardson and Evelyn Seavey Richardson.  As a young man, he worked with his Dad delivering milk around the harbor.  He was an avid Ham radio operator.  At the age of 15, he traveled on the Blue Dolphin as the radio operator for a scientific expedition to Labrador for three months during the summer.  Ron graduated from Boothbay Harbor High School in 1955.  He attended University of Maine and graduated in 1960 with a Bachelor's Degree in Engineering and a Master's Degree in Business.  As a student at the University of Maine, he was a member of the Rifle Team for four years and an ROTC participant for two years.  After college, Ron enlisted in the United States Army and served two years in Berlin, Germany.  After being discharged, Ron worked for RCA Service Company in Sinop, Turkey. 
In 1965, Ron married Lorrie Nieberline Richardson and worked for NASA on the Apollo program in Agana, Guam for three years.  Upon returning to the United States, he started his 35 year career with C&P Telephone of Maryland and AT&T in Basking Ridge, New Jersey.  Ron lived out of the country for 12 years during his career and after retirement returned to his home in Boothbay Harbor, Maine.  He loved to spend the winters in Boynton Beach, Florida.  He will forever be remembered for his smile, his kind heart and willingness to help anyone along the way.  His positive attitude will be missed forever.
Ronald was predeceased by his parents.  He is survived by his wife, Lorrie Richardson, daughter, Kerry DiJoseph, son-in-law Lou DiJoseph, granddaughters Danielle and Brittany Menchen, son, Michael Richardson, daughter-in-law May Richardson, and grandsons Brad and Dylan Richardson.
A memorial service will be held at a later date to be determined.
Condolences may be expressed at www.funeralalternatives.net