« Obituaries | Catherine M. Richards
Catherine M. Richards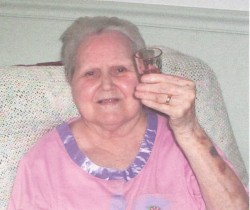 Date of Death: January 4, 2016
Date of Birth: August 21, 1927
Biography:
Catherine M. Richards, 88, of Lisbon Falls went home to her eternal reward on January 4, 2016.
She was born in New York City on August 21, 1927 to John and Mary Medeske. She loved growing up in the city enjoying family and friends.
Catherine married another New Yorker, the late Edward Richards, and they moved to Long Island. Living in suburbia, she developed her gardening skills. Her flower gardens enhanced her home and neighborhood. Many passers-by often photographed her works of love. Her favorite saying was "You're never closer to God than when you're in the garden."
Her love of dogs was evident in the many dogs she adopted from shelters and the strays she gave a home. Her last companion Pepper saw her through her last days.
She commuted to the city every day to manage the office of Capel Rugs, Inc. until the day she retired. Upon retirement she and Ed moved to Maine to be close to their daughter and enjoy life "the way life should be".
Catherine is survived by her daughter Kathleen M. Sullivan of Lisbon Falls, her daughter-in-law Sandy, many nieces and nephews, and her dear friend Romy Spitz of Brunswick.
The family extends a special thank you to all CHANS Hospice staff for the excellent care and comfort Catherine received during her last four and half year journey home.
Donations in Catherine's name may be made to CHANS Hospice, 60 Baribeau Drive, Brunswick, ME 04011 or Tall Tails Beagle Rescue, 81 Pleasant Hill Road, Freeport, ME 04032. There will be no visiting hours. Burial will be private.
Condolences may be expressed at www.funeralalternatives.net