« Obituaries | Sarah A. Richards
Sarah A. Richards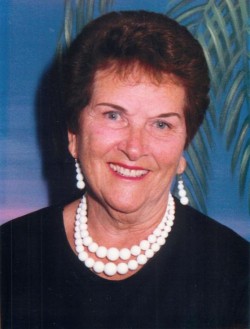 Date of Death: February 20, 2010
Date of Birth: August 4, 1925
Biography:
Yarmouth - Sarah Ann (Morazzini) Richards, 84, of Portland Street died at her home on Saturday, February 20, 2010 in the presence and care of her two daughters, following an 11-year battle with a variety of cancers.
       Sarah was born in West Boylston, Massachusetts in 1925, graduated from its high school in 1944, and was accepted into the Registered Nursing program of the Cadet Corps, graduating in 1947 from the Leominster Hospital School of Nursing. The Cadet Corps was established by the United States government to meet the need for nurses due to a nursing shortage during World War II.  In return for Cadet uniforms, tuition, housing and a small stipend, the cadets promised to serve the United States where needed for the duration of the war. As Sarah's graduation came after the war ended, her nursing career was centered in public hospitals.
       The daughter of Italian immigrants, her childhood was spent helping her parents raise vegetables and working at the family fruit stand in West Boylston. She married Carl Joseph Richards in 1948 in West Boylston and moved to Holyoke, Massachusetts where Carl was the window and display artistic director for McCauslin & Wakelin Dept. Store and while he attended and graduated from Northeastern University under the G.I. Bill.  They moved to Yarmouth, Maine in 1954 when Carl was named advertising director for the Freeport-based shoe company, E.E. Taylor Corporation.  Sarah raised her two girls and resumed her nursing career, most of which was spent at the Maine Medical Center.  She spent decades volunteering in public school athletic physical and inoculation clinics, and was an active member of the Yarmouth Health Council for over 40 years, including serving for a time as its president.
       She loved Maine, her family her neighborhood and the outdoors, especially ocean beaches.  In the winter, for her children, she created "snow mountains" in her front yard for sliding, igloos for hiding and snow creatures to ride; she flooded her backyard to make a large skating rink.   In the summers she cleaned out the neighborhood brook so the children could watch the pollywogs and water spiders, planting moss along the banks. She love to pick blueberries, and knew secret high bush locations. Until recently, she enjoyed taking walks and riding her bike
       In recognition of the importance of education in her own and Carl's lives, she encouraged her daughters to attain advanced degrees, one in law and one in medicine. "Education is something no one can ever take away from you," she often said.
       Upon their retirement, Sarah and Carl annually wintered in Dunedin, Florida in a mobile home community they came to love, and there she served as a volunteer for Pinellas County Hospice, However, her favorite place was her own backyard in Yarmouth, Maine, where she always had a vegetable garden whose bounty she shared with her neighborhood friends of fifty years, and a deck on which she enjoyed sunshine and reading.
      She was predeceased by her husband, Carl, in 1994, and by her parents, Marino and Cesira Morazzini and by her sister, Hilda Natola.  She is survived by her   daughters, Attorney Nancy Richards-Stower of Scituate, Massachusetts and Nancy's husband, Rev. Richard Stower, and Dr. Debbie R. Cooper, of West Chester, Pennsylvania and her husband, William Cooper, a grandson, Jonathan D. Stower of Concord, Massachusetts and a brother, Marino Morazzini of West Boylston, Massachusetts.
       A private memorial celebration will be held at a later date.
        At Sarah's request, contributions in her memory may be made to: Hospice of Southern Maine, www.hospiceofsouthermaine.org. Share your memories at www.funeralalternatives.net.