« Obituaries | Gerard "Gerry" Remsen III
Gerard "Gerry" Remsen III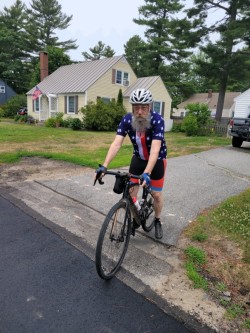 Date of Death: October 28, 2022
Date of Birth: February 27, 1957
Biography:
Gerard "Gerry" Townsend Remsen III, Brunswick, Maine, formerly of Jefferson Township, New Jersey passed away peacefully, on October 28, 2022 at home with his loving wife of 38 years by his side. Gerry was born on February 27, 1957, in Glenridge, New Jersey, the son of Gerard T. and Agnes L. Remsen Jr. Gerry graduated from Brighton High School, Rochester, New York with the class of 1976. He attended college at Benjamin Franklin Institute of Technology in Boston, Massachusetts, where he earned his Associates Degree in Architecture. He continued his education at New Jersey Institute of Technology gaining a Bachelor's degree in Engineering Technology, and later a Master's degree in Civil Engineering. Gerry began his engineering career working at CME Associates in Parlin, New Jersey and had recently retired from the City of Portland, Maine where he worked as City Engineer. His love for engineering led him to many different companies over his 33-year career. However, he was most proud of the work he did at Suez Water in Nyack, New York. On May 26, 1984, Gerry married his best friend and the love of his life, Kathy Reidy of Kinnelon, New Jersey. They settled in Jefferson Township to raise their son, Neil.
Gerry enjoyed traveling, camping, hiking, volunteering with the Boy Scouts, education and of course, engineering. He believed there was always something new to learn or to teach. Although he devoted much of his time to engineering and education, anyone who knew Gerry, knew his true passion was cycling, he spent any spare moment he could riding. He was always looking for the next race to win, mountain trail to conquer or path to share with family and friends.
Throughout his life Gerry was given many nicknames, such as, "Grizzle", "Grizzly" and "Father Time". However, becoming "Grumpy Grampy" was his most treasured. His granddaughter was the light in the darkness during his battle with cancer. She was his reason to continue the fight. Gerry so wanted to be here to see Amelia ride her first bike. While he cannot give her the first push off with no training wheels, he will forever be the wind in her hair, the sun on her face, the gravel beneath her tires and when she is old enough, the bubbly in the beer at the finish line.
Gerry is survived by his wife Kathy Remsen of Brunswick, Maine; their son Neil Remsen and wife Carley of Topsham, Maine, and granddaughter Amelia. In addition to his wife, son, and granddaughter he leaves behind his mother, Agnes Remsen, and a brother, Dan Remsen, both of Bellingham, Washington. As well as many cherished nephews and lifelong friends.
Gerry was predeceased by his father Gerard Remsen Jr. and a brother Lawrence Remsen.
Even though Gerry is gone, he will continue to live on in the hearts of those who loved him most. When the weather warms and the beer is cold there will be a celebration of life for Gerry's close friends and relatives. In lieu of flowers donations can be made to: Dana-Farber Cancer Institute and the Jimmy Fund P.O. Box 849168 Boston, MA 02284-9168 Or Parkinson's Foundation 200 SE 1st Street Suite 800 Miami, FL 33131