« Obituaries | Howard Charles Reiche Jr.
Howard Charles Reiche Jr.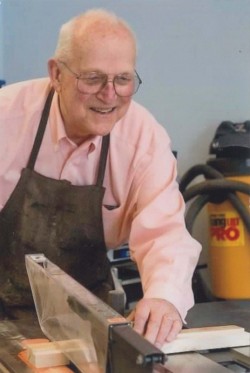 Date of Death: January 25, 2023
Date of Birth: January 22, 1929
Biography:
FALMOUTH – Howard Charles Reiche, Jr., 94, passed away on January 25.
Howard Reiche repeatedly said that he loved everything about his life, and that was heartfelt.
He was born into the Great Depression, and grew up in the close knit working communities of Munjoy Hill and Casco Bay. Endlessly proud of the Munjoy Hill connection, he began every introduction to a stranger with an interrogation in search of a shared connection with The Hill. "Mancini…are you any relation to Nunzi Mancini who had the bakery across from the Observatory?"…"Amergian…hmmm, based on your looks I bet you are related to Sally Amergian who taught at North School." If a connection was established, an unconditional bond took hold.
Spending his professional career at the S.D. Warren Paper Company in Westbrook, Howard started as an apprentice and rose to Mill Manager with 2,800 employees. His favorite part of the work was spent with people on the production floor. Concurrently he ran a third generation antiques business with his wife, Stevie.
During 70 years of family life in Falmouth he was active in civic affairs, serving on the Town Council, Planning Board, Zoning Board and Engine 3 of the volunteer fire department.
Howard impressed on others his belief in the many benefits of making things with your hands, and loved sharing his related interests. For decades every Christmas gift he gave came out of his workshop. He was predeceased by his wife of 67 years, Louise "Stevie" Reiche, and is survived by children Stacey Holden (Bill) and Ford Reiche (Karen), and five grandchildren: Reed Holden, Sarah McGuire, Betsey Reiche Ducas, Sam Reiche, and George Reiche, their spouses, nine great-grandchildren and his guard cat, Alice.
He was comfortable going out in public in his slippers long before he was old enough to have a good excuse. Howard was at ease traveling off the beaten path, and that philosophy served him well in work, play and life.
Per Howard's wishes a family celebration of life will be held in the Spring. Anyone wishing to make a remembrance of Howard may consider a donation to the Gilead Historical Society, 14 Depot Street, Gilead, Maine 04217.