« Obituaries | Barbara (Carter) Reed
Barbara (Carter) Reed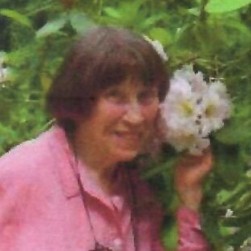 Date of Death: October 1, 2022
Date of Birth: April 18, 1929
Biography:
Barbara (Carter) Reed left this world for a joyful reunion with all those she loved who passed before her. She was born in Ellsworth to her loving parents, Frances (Robinson) Carter and Howard L. Carter on a spring day in 1929. She left us on a beautiful October day as the leaves began to welcome fall.
She was the oldest of five siblings. She was predeceased by her loving son, Randall (Randy) Reed in 2021. Others who predeceased her were her parents and brothers, Donald (Donny) Carter, Loring (Bub) Carter, and her sister Betty (Carter) Fletcher who passed six days before Barbara.
After their marriage in May 1955, Barbara followed Jim wherever the United States Air Force sent them for twenty-two years. They spent time in Scotland, England, Turkey, Texas, and Maryland. They traveled throughout Europe (Italy, Germany among others) during their time in the UK. They were only separated when Jim was sent to remote locations like the border of Russia during the cold war. She prided herself on never asking Jim what he did for work. She made friends wherever she went.
Barbara enjoyed nature in all its beautiful forms. The wildlife (deer, chipmunks, birds, bees, and squirrels) around their home was treated with apples, bird seed, and a filled hummingbird feeder. A bear even visited one day! She was well known for her gardens, including her rock garden which attracted attention from passers-by. Lilies lined the driveway and cheerful geraniums often adorned the front steps.
She and Jim were busy for many years with the Downeast Beekeepers group. They planned speakers and many meals for the group. They went to dances in Brewer and Surry as often as they could before Covid put an end to the dances. She loved Musical Theater (42nd Street was her favorite) and MDIHS plays. Her rock collection included many sparkly rocks and Mica, one of her favorites. They spent many hours attending birthday parties, weddings, and anniversaries with their beloved nieces and nephews.
She cared for friends and family members and often welcomed people who weren't related to her family. She was generous, light-hearted, and thoughtful. She would often buy items from craft sales just to make the craft person happy. She baked biscuits, cupcakes, and other items for the Town Hill Market. Her biscuits were spectacular and try as we might ours will never compare.
She almost always had a tissue and red lipstick with her. She loved root beer; root beer floats were treats for her grandchildren and the family children who visited their home in Somesville. Popcorn was popped, pudding was made and games were played. Trips to Acadia to pick blueberries on the side of the road (she always knew the best spots!) and ride bikes on the carriage paths kept their granddaughters entertained and active.
Time spent with Mimi often included camping out in the backyard with her. Among her favorite beings on earth were her cats. A black cat they named Licorice adopted them and then 'gifted' them with a litter of kittens. For years there was always a "Licorice" in their home. Their white cat, "Marshmallow" must have heard that the Reeds were great to live with so he made himself known until he was invited in.
Her sense of humor delighted people until her final days and will live on in our memories. She amused the Avita staff and the doctors and nurses at Midcoast Hospital. She would make funny faces and make them laugh. She would dance a silly jig with her walker. She had a youthful spirit and when she was 90 years old challenged her great-granddaughter to a foot race. She even won (wink, wink).
Barbara leaves behind her loving family headed by her husband, best friend, and dancing partner Jim, younger sister Judy Brown who she loved dearly from the moment she was born, Jim's brother Earle Reed and wife Linda, daughter Teddi (Theodora) Reed, and husband Sandy'vVylie ,Daughter-in-law Louise Reed wife of Randy Reed (predeceased). Adoring is an understatement where her granddaughters are concerned. Kathryn (Leach) Bathras, and her family Tim Bathras and a great-granddaughter Norah Bathras . Joanna (Leach) Larson and her sons Carter and Adam Larson. Her devoted neighbor Sharon Kelley was always a good friend who kept an eye on Barbara and Jim as they aged. She also leaves behind many nieces and nephews. As well as members of the Bathras family.
A private burial will be held Oct 6, 2022 . A cheerful celebration of her life will be held in the spring of 2023.
In lieu of flowers please call or visit your mother or someone you love and let them know that you are thinking of them. Adopt a cat. There's a Licorice or Marshmallow out there for everyone.