« Obituaries | James Randall Reed
James Randall Reed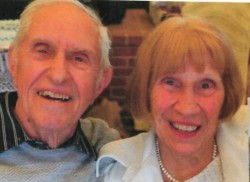 Date of Death: May 1, 2023
Date of Birth: April 29, 1931
Biography:
James (Jim) Randall (Dad, Pa, Uncle Jim, Uncle Randall) Reed was peacefully reunited on Monday, May 1, 2023, with his loving bride, Barbara (Carter) Reed, seven months after her passing. Anyone who knew them knew that the dance band was all warmed up by the time Jim arrived and they enjoyed a long-awaited dance. No doubt she looped her thumb in one of his belt loops and off they went, spreading love and saying hello to friends on the dance floor.
Jim was predeceased by his wife, Barbara Amelia Carter Reed on October 1, 2022 and son Randall Howard Reed on August 24, 2021.
He is survived by brother Earle Reed and wife Linda; daughter Teddi (Theodora, Teddy) Reed and husband Sandy Wylie; granddaughter Kate (Leach) Bathras, her husband Tim and daughter Norah;
granddaughter Joanna (Leach) Larson and sons Carter and Adam; daughter-in-law Louise Reed; sister-in-law Judy Brown; special neighbor Sharon Kelley who kept an eye on Barbara and Jim as
they aged; and members of The Bathras family. His family was wide and he loved his nieces, nephews, and their children like only he could.
Jim met Barbara when his brother-in-law took him to the store where she worked and said, "You gotta meet this girl." They were married on May 14, 1955. They traveled the world with their children while he served in the Air Force. The Blue Grotto off the Isle of Capri was a favorite adventure, fondly remembered for years afterward. Assignments included Turkey (twice), England, where Teddi was born, Edinburgh, Scotland, San Antonio, where Randy was born, San Angelo, Fort Meade, Maryland. 22 years after his retirement he could finally disclose his duties within the Security Service of the United States Air Force. It turns out he was a cryptologist and was 'in tune' with cold war foes and recorded some interesting coming and goings.
Jim was incredibly generous with his time, love, and money. He supported several organizations (after careful research to confirm they would really serve people with each donation). His efforts,
including many blood donations over the years, helped them provide services for children in hospitals, wounded vets, and others nationally. He was there for his community as well. He purchased raffle tickets, made bids on auction items, and anonymously donated directly to families in need for years. Whenever he came across tourists on a hiking trail, he would offer to take their picture with the scenery so their whole group could be in the photo.
His love for nature included spending hours with his grandchildren on the bike paths of Acadia National Park. He introduced family and visitors to honeybees when he became a beekeeper, and he
and Barbara hosted meetings for the Downeast Beekeepers Association. He would visit schools and teach students about the importance of bees. His favorite time of year was when the bees would fill the plants with their buzzing. He could often be found humming in his garden, enjoying his bounty of green beans, carrots, and lettuce before they even made it to the kitchen and harvesting veggies to sell by the side of the road (honor system!). He protected his blueberry bushes every August with netting so the deer and birds couldn't get to them before granddaughter Kate could.
He was known for telling his favorite stories and jokes more than once. When he joined the Air Force, everyone was excited because they had pizza in the mess hall. He hadn't heard of pizza so the
others explained to him that it was bread topped with tomato sauce and cheese. He didn't get the appeal until he took his first bite. Decades later he still marveled at how inexplicably good pizza is
even though it sounds "disgusting." Shrimp was his all-time favorite, though, and he brought shrimp cocktail to almost every family gathering. If he thought something was gross (like maple syrup or
olives), he'd just say "144!" He made sure to keep boxes of macaroni and cheese in the pantry at all times because he knew it was Joanna's favorite, even as he playfully complained that it was "all she would eat."
He was incredibly resourceful and innovative, making kitchen tools from scraps of wood, swings out of tires, and clothespin bags out of worn jeans. He made beeswax candles, but he was famous for his "bee cream," a fantastic hand cream that he would package in film canisters.
His video camera captured graduations, weddings, Christmas mornings, Thanksgiving feasts, and so much more.
He'd often tell us that he was happy to have us. We were lucky to have him. 
A CELEBRATION of Jim and Barbara will be held on June 25th, 2:00-4:00 at the Assembly of God Church, Ellsworth, ME. We will dance and enjoy some of their favorite refreshments.
In lieu of flowers please consider any of the following. Spend time with your family. Dance. Treat yourself to some local honey. Donate to Heifer International where they often multiply your donation
to provide honey bees to people who are looking for a way to build an income for their families.