« Obituaries | Eleanor Louise (Rogers) Purington
Eleanor Louise (Rogers) Purington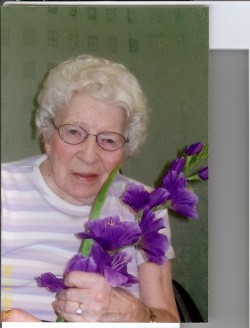 Date of Death: April 20, 2013
Date of Birth: May 12, 1920
Biography:
AUGUSTA – Eleanor Louise (Rogers) Purington, 92, of Bowdoinham, died on April 20th, 2013 at Gray Birch Nursing Home.
She was born on on May 12th, 1920 in Bowdoin, the daughter of Erland and Gladys (Small) Rogers.
Eleanor graduated from Lisbon Falls High School in 1938. She then married Ralph Purington on June 22, 1940 in Bowdoin and were long time residents of Bowdoinham.
Eleanor was a housewife, stay at home mom while her children were young; then a school bus driver, and then a hostess at The Chuck Wagon Restaurant at Cook's Corner, Brunswick. She was a member of the Order of the Eastern Star and the Grange in Bowdoinham.
She loved her family. And she also enjoyed bingo and wintering in Florida until she was not physically able to do so any longer. The last 2.5 years of her life were spent at Gray Birch Nursing Home in Augusta.
She was predeceased by her parents; husband Ralph; and sister Marjorie Coombs. Eleanor is survived by her daughter Sharon Basinger of Rockwell, NC; son Dennis Purington of Belgrade; brother Russell Rogers of Bowdoin; grandchildren Deanna Green and Steven Green of NC; great-grandson Aiden Basinger of NC; step-granddaughters Christine Slater of N. Berwick, Katie Brickett of Mt. Vernon; step-great-grandchildren Justin and Saige Brickett of Mt. Vernon; many nieces and nephews in Maine and CT; and special friends Josephine Beaulieu of Topsham, Barbara Hackett of Sun City Center, FL.
Eleanor's family would like to thank Dr. Harmon and the staff at Gray Birch for the excellent care she received. Donations may be made in her memory to the Activity Fund at Gray Birch, 37 Gray Birch Street, Augusta, ME 04330 or the American Heart Association, 51 U.S. 1, Scarborough, ME 04074 or the charity of their choosing.
Graveside services will be held in June, exact date and time to be determined, at the Village Cemetery in Bowdoinham.