« Obituaries | Elizabeth "Betty" Provost
Elizabeth "Betty" Provost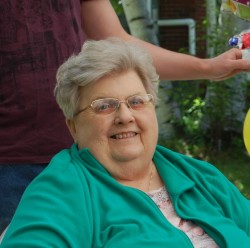 Date of Death: June 15, 2018
Date of Birth: June 11, 1938
Biography:
Elizabeth "Betty" J. Provost (Eslin)., 80 years young of Auburn, passed away on June 15th, 2018 at Clover Manor in Auburn. She was born in Lewiston on June 11, 1938 to parents William Belmore and Dorothy Eslin, and was adopted
at a young age by her grandmother, Dora (Corro)Eslin.
Betty was a member of several clubs, including the Bambi Club, Past Time Club and Elks Club.
She worked many years at St. Mary's Hospital in the kitchen as a cook and 29 years at Oak Hill High School as a cook.
Betty was a fabulous cook, she enjoyed cooking family dinners and gathering together. She was a avid card player especially of cribbage. She had a wonderful outlook on life and lived her life to the fullest. She traveled and enjoyed many trips with her husband. Her great sense of humor will be missed.
Predeceased by father William Belmore and mother Dorothy Eslin Belmore, brother Bobby Belmore.
Surviving are her husband of 61 years Roland L. Provost from Auburn, their children Marc Provost and partner Louise Hedgpeth of Sabattus, Marcel Provost and wife Roxanne of Bowdoin, Gregoire Provost and wife Nancy of Sabattus, daughter Cathy Dionne and husband Richard of Greene, her 8 grandchildren Danielle Watford and husband Gary of Sabattus, Kimberly McFarland and husband Adam of Lisbon, Zackary Provost of Lisbon, Ambyr Morong and husband Andrew of Lewiston, Ashley Wiers and husband Alex of Lewiston, Cody Provost of Sabattus, Benjamin Dionne of Greene, and Caleb Provost of Sabattus, 4 great grandchildren: Dylan McFarland, Roman Watford, Alice Watford, and Camden Morong. Sister Dot Chasse and husband Bert of Auburn.
A committal service will be held in the chapel at St. Peter's Cemetery in Lewiston on Thursday June 21st, at 11am. In lieu of flowers, donations may be made to the Autism Society of Maine 72B Main St. Winthrop Maine 04364