« Obituaries | Harold John Pratt
Harold John Pratt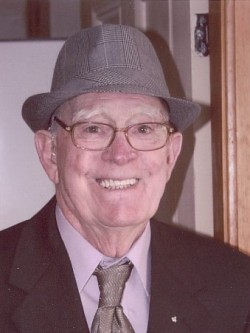 Date of Death: April 1, 2012
Date of Birth: November 13, 1924
Biography:
WINDSOR -- Harold John Pratt, 87, son of Earl J. Pratt and Mona L. (Glidden) Pratt, born in Princeton on Nov. 13, 1924, died April 1, 2012.
Harold grew up in Princeton and went to the Princeton schools and also to 2nd Class MVTI. He enlisted in the Army on March 18, 1943, and was honorably discharged on Nov. 15, 1945.
He was a member of Company D, 4th Ranger Battalion "Darby's Rangers" and participated in the invasions of Sicily and capture of Palermo, Naples-Foggia, Rome, Arno, Anzio, Northern Apennines, southern France and the Rhineland, was wounded at Venafro and then Naples.
He was also a member of the First Special Services Force in World War II. He was scheduled to return to the states after he was wounded at Naples, but requested to be sent back to his unit and was subsequently wounded for the third time at the Anzio beachhead.
He and fellow Rangers were given the task of eliminating the massive German "Anzio Expres" railroad gun targeting the Anzio beachhead, and the mission was accomplished. He was then involved in the battle of Monte Casino along the Gustaf line with his unit.
He entered Rome when it was liberated with troops commanded by Gen. Mark Clark. His unit was attached to a number of infantry and cavalry units in France and the Rhineland. He and his fellow Rangers volunteered to join with the unit commanded by Col. Charles Reed, 2nd Cavalry, under Gen. George Patton, to rescue the famed Lipizzaner horses in Austria from capture by the oncoming Russian Army.
He is the recipient of the Bronze Star for Valor, the Combat Infantryman Badge, the Rome Liberation Medal, the European-Africa-Middle Eastern Campaign Ribbon with Bronze Arrowhead, the World War Ii Victory Medal, the Good Conduct Medal and several Purple Heart medals.
When Harold returned to the state of Maine, he married Sara Mitchell Brown. They made their home in Gardiner and then moved to Windsor. Harold worked at and retired from the Veterans' Administration Medical Center at Togus.
Harold was past master of the Dirigo Lodge AF & AM of Weeks Mills, as well as past patron of the Lily of the Valley Chapter 157 Weeks Mills.
Harold was also a member of Chelsea Advent Christian Church.
Harold is survived by his wife of 65 years, Sara (Brown) Pratt; a son, Michael, and his wife, Laureen Pratt, of Weld; a son, Elwood and his wife, Vicki Pratt, of Windsor; a grandson, Jerrod Pratt, of Rockland; a granddaughter, Julie, and her husband, Nate Bartlett, of New Sharon; great-grandchildren Grace Pratt and Joshua Pratt, both of Rockland, and Abigail Bartlett and Elias Bartlett, both of New Sharon. He is also survived by a very special step-grandson, Steven Furrow and Laura of Kentucky. Steven was also an Army Ranger and he and Harold held a special bond; also step-grandchildren Michael and Abbie Furrow of Texas, David and Mary Furrow of Texas, and Joseph Furrow of Florida. He is also survived by a brother, Wilbur "Bucky" Pratt, and his wife, Maybelle, of Florida; a sister, Ruth Damon, of Princeton; and his youngest sister, Linda Carithers, and her husband, Howard, of Illinois; as well as several nieces and nephews.
The family would like to thank Beacon Hospice, but especially Lasca Black, RN, and Chasity Kroot, CNA, for their assistance with Harold being able to be in his home for his last days. Nurses Black and Kroot were very knowledgeable, helpful, caring and comforting to the family, and especially to Harold and his wife, Sara.
In lieu of flowers, donations in memory of Harold J. Pratt may be made to the Wounded Warrior Project, 4899 Belfort Road, Suite 300, Jacksonville, FL 32256.
Visiting hours will be from noon to 1 p.m. Saturday, April 7, 2012, with a memorial service beginning at 1 p.m. at Advent Christian Church, 1158 Eastern Ave., Route 17, Chelsea. The service will be officiated by the Rev. David York.