« Obituaries | John B. "Jack" Powers
John B. "Jack" Powers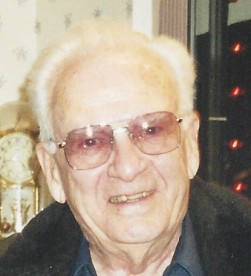 Date of Death: January 30, 2013
Date of Birth: December 26, 1919
Biography:
AUBURN-John B. "Jack" Powers, 93, of Auburn, Me, passed away due to "old age and high mileage" on Jan. 30th, 2013 at home at Schooner Estates with his loyal daughter Nancy by his side.
Jack was born in Binghamton, NY on Dec. 26th, 1919 the son of James H. and Mona (Mac Indoe) Powers. He grew up and attended schools in Rochester, NY.
Jack and his wife, Mary Ann, were the oldest members of the Bluebonnet Miata Club of San Antonio, TX, with Jack having bought his first Miata at 78 years old. He was also a member of both the USS Saratoga, and USS Thetis Bay Associations. He was civic minded, and active in his communities, helping to build the Prince of Peace Lutheran Church in Houston TX, and serving on the planning board and Volunteer Fire Department in Londonderry NH. Jack mentored children in San Antonio schools, and also was one of the founders of Chester College of New England, formerly known as White Pines College.
He enjoyed working with stained glass, and also was a wood worker, photographer and jewelry maker. He was also known for his wind chimes. Jack also enjoyed traveling with his wife as they lived in many of our United States and overseas while he served our country. After retirement, they took many long trips in their motor-home and visited nearly every state in this country, and many of the provinces of Canada. They also toured extensively in Europe and the British Isles. Jack also loved riding and racing snowmobiles with Mary Ann.
Jack was known for his determination and high principle. He served twelve years in the US Navy, eleven years in the US Air Force, as well as thirteen years in the Civil Service. He was awarded many medals, but the one of which he was most proud was the USAF Commendation.
Jack was predeceased by his wife of 65 years, Mary Ann in 2006; five sisters, Lucille, Ruth, Mona, June and Jane; and one brother, Robert.
He is survived by his daughters, Nancy E. of Augusta, and Ann B. of NH; a sister, Jean and husband Anthony DiGiovanni of Hilton NY; 4 grandchildren; 6 great grandchildren; and many nieces and nephews.
He will be remembered for his great sense of humor, which he kept throughout his life. The family would like to extend their gratitude to all of the staff at Schooner Estates, especially Donna and Amy for the love and care they provided. They would also like to thank Dr. Donald Woolever and his staff at CMMC.
Committal services will be held in the spring. In Lieu of flowers, donations may be made in Jack's memory to the Hillside Children's Center
1183 Monroe Ave Rochester, NY 14620.