« Obituaries | Arline T Poussard
Arline T Poussard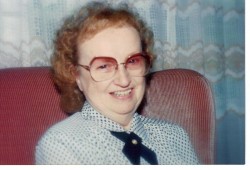 Date of Death: December 25, 2009
Date of Birth: September 10, 1921
Biography:
Auburn—Arline T. Poussard, 88, formerly of Wales, ME and Plant City, FL, passed away Friday morning, December 25, 2009 at the Hospice House in Auburn.
She was born in Wales on September 10, 1921, the daughter of William H.H.and Georgie A. (Ridley) Taylor.  Arline married Honore J.Poussard on August 20, 1949 in Lewiston.
She was a member of the Seventh-Day Adventist Churches of Auburn, Brunswick, and Pasco, FL.  She lived most of her life at the family farm surrounded by many family members with their frequent gatherings. Arline moved to Florida in 1994 where she met many wonderful people in her neighborhood and church community and lived a very fulfilling and busy lifestyle before moving back to Maine in 2004.  She enjoyed going for a walk no matter where she was located.  She was a member of a bowling and shuffleboard team. She enjoyed water aerobics, going shopping, eating out, her rose garden, church gatherings, and the Strawberry Festival.  Her grandchildren enjoyed her molasses cookies and rhubarb cake.
Arline was predeceased by her husband Honore; children Connie Knowles and Patricia Dupere; brothers Lester and Chester; sisters Helen, Austie(Dot), and Pauline; and grandson Charlie Webster.
She is survived by daughters Linda Miller of Lewiston, Betty Murray and husband Tim of Mims, FL, Paula Coulombe and Joyce Chaput of Sabattus; a son Henry (Bub) Poussard of Sidney; step-children Harvey, Paul, and Pauline; sister Marion Briggs of Auburn; 19 grandchildren; two generations of great grandchildren; and special friend Laurence Newton of Lewiston.