« Obituaries | Wendy M. Poulton
Wendy M. Poulton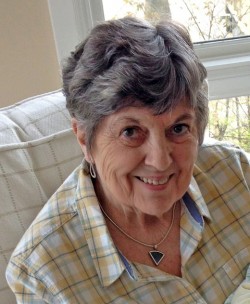 Date of Death: December 23, 2016
Date of Birth: February 1, 1941
Biography:
Wendy Margaret Poulton (nee Harverson) passed away in Topsham, Maine on December 23, 2016, at home surrounded by her loving family following a nearly year-long battle with non-Hodgkin's lymphoma. She was 75.
Wendy was born on February 1, 1941 in Manchester, England to Denis and Doris (Sherry) Harverson. An explorer from birth, Wendy's passion for travel took her to Europe as a youth. At 21, she left England for New York City where she worked in the corporate offices of American Can Co. and lived in Greenwich Village. Wendy took the long way back to England by traveling for several weeks across the USA and around the world by ship.
Wendy then joined the British Diplomatic Service in 1964 and was first stationed at the British Embassy in Kabul, Afghanistan. There she met a fellow American explorer in her husband Nick who was teaching engineering at Kabul University through an American aid program. They returned together to the USA, and were married on October 7, 1967, in Columbus, Indiana. Their subsequent adventures took them to all corners of the globe including a return to Afghanistan [with their first infant daughter] and later to the Fiji Islands, Pakistan, and Indonesia where Nick continued to work on international education projects. The couple spent many years in Michigan, Washington, DC, and Austin, Texas before retiring to Topsham, Maine in 2014.
Wendy embraced the local communities in all their new homes through volunteer work from school libraries in Suva, Fiji to conservation work at the National Museum in Jakarta, Indonesia. She studied geography and became skilled at tracking the genealogy of the entire family, both British and American. She and Nick traveled to places all over England and the US tracing relatives and meeting interesting people. She was particularly intrigued with the social history of the places and times when her relatives lived. She often said that it made history come alive to her.
Wendy loved cooking and exploring new cuisines, hosting parties, and passing these lessons to her daughters. Afghan food for "Boxing Day" became a continuing Poulton family tradition at Christmas time. Her family will now carry her adventurous spirit and passion for exploration with them to every new place, person, and culture they experience in her honor and memory.
Wendy is survived by her husband Nick; daughters Nicole Poulton and Susan Poulton; and a large extended family both in the U.S. and U.K. who will all miss her. She was predeceased by both parents and her beloved brother, Ivor D. Harverson.
Wendy will be remembered as a beautiful adventurous spirit, loving wife and mother, and great friend. A celebration of her life for friends and family will be planned for a future date. In memoriam donations are being received at several organizations for causes she was passionate about, including the National Trust for Historic Preservation which she admired through her work in genealogy.
From one of her favorite poems:
"Far over seas an island is;
Whereon when day is done;
A grove of tossing palms;
Are printed on the sun.
And all about the reefy shore;
Blue breakers flash and fall.
There shall I go, methinks,
When I am done with all."
--Robert Louis Stevenson